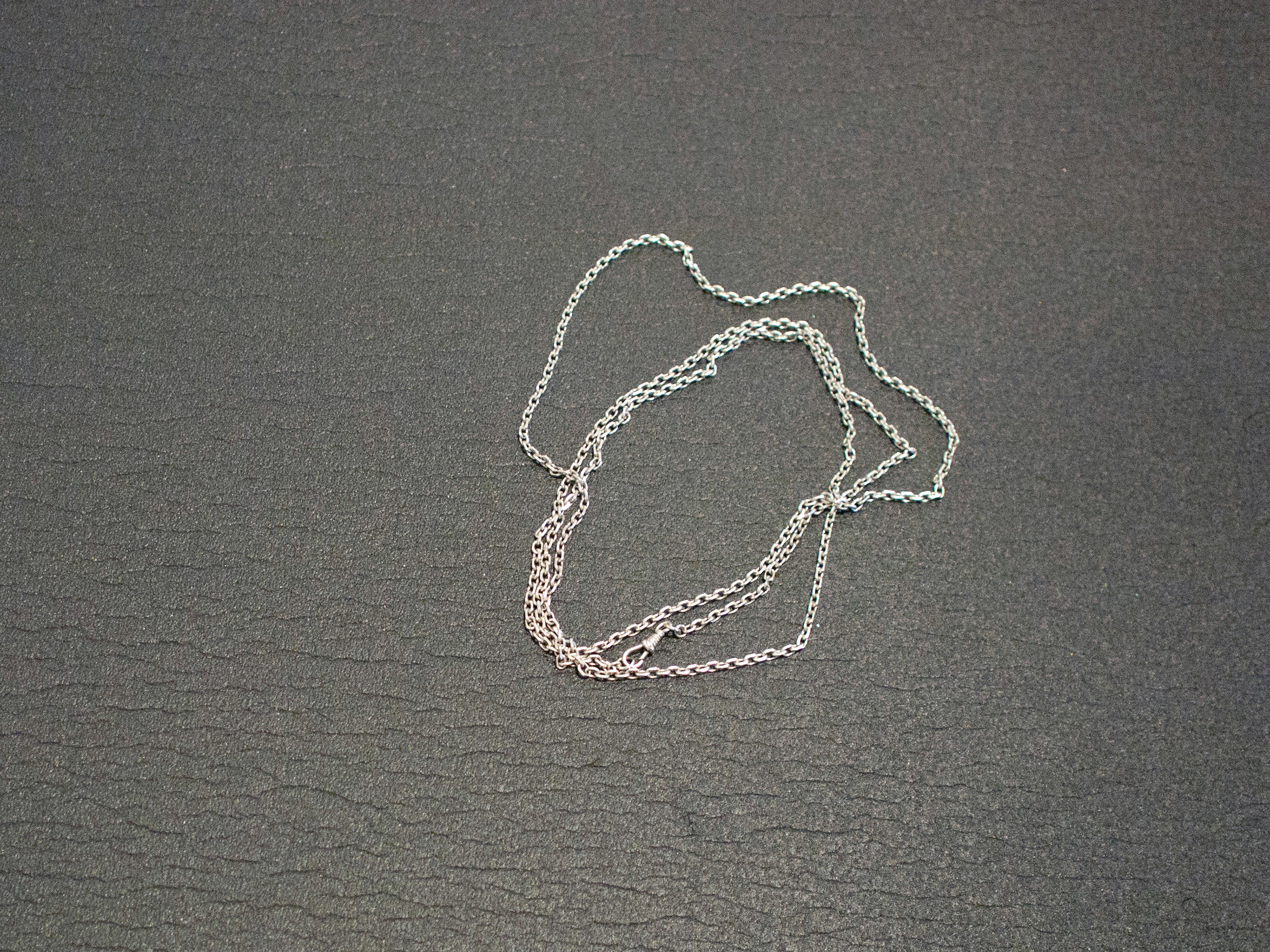 Actually, the other day, I was thinking what is left for me. Well I've got nothing but these pieces of jewellery. To be sure, I still have a lotta plastic boxes full of things from the first home, like photos, but I just can't touch them. I get so gross neurological symptoms of them that I think I'd better not touch them ever. They're waiting over there.
I often wear a heart necklace. And in addition I've got this jewel of my great-granny's. For me, this is something important. I never saw my granddad, because he died from MS at the age of fifty. Only one of his sisters survived, but she died just a few months ago. And when we visited her she gave this to me. It's handmade and old, her mama had owned it. It's great-granny's. She also showed us photos of her family and told us various stories.
It's fab to have such a touch now that everything else has disappeared from around. It's the people that are important. It somehow concretized the relevance of matter when she kept repeating you can't get anything with you so it's no use collecting matter. But it's real fab to have something, to have at least memories. It's something I've had to keep repeating to my kids. This is very hard for them. My daughter still cries for some soft toys which were important, but, in reality, I guess  it's sooner our own home that was the important thing.
However, we had a detached house, a large yard and our dogs had more space than in blocks of flats and in small homes like this one and we have moved farther and farther away from our kids' friends. I'm sure our children have grown, or, at least, they can perhaps realize what's important and see more things than people living normal lives.
INTERVIEW, 19th NOV. 2015                                                                        
Well, our life with mould started when we bought a detached house 2005. Then around 2009-2010 I was getting real ill. I showed no asthma symptoms, no respiratory infections, but I had pains here and there and no one had any explanation. During one year I had

trigeminal neuralgia on my face all the time. That year was real hell. It was in the autumn of 2012 that I could sense a smell at one place in our house , but when it was below freezing point, it disappeared, and then it came back in spring. We found a plastic mat in the hall under the board floor, opened it and protected it with plastic. We could see nothing there, everything looked dry and clean. I think it was our biggest blunder to remove the old sawdust and put new insulating material there. It was, however, covered with mould and it spread to our place. We didn't have any uderpresurization either, we didn't know anything about this kind of things.
As we returned home after the renovation, I got sick straightaway. I could now smell mould all over our home and all our clothes smelled of mould. We argued, me and my husband, about what we were going to do, because he didn't want to believe at all that this kind of things could exist. Well, at that stage, I couldn't believe either that all my symptoms were caused by mould. Then we took along just the necessary items like toothbrushes and a few garments and bugged off to my parents.
Around November I started to realize that my childhood home wasn't quite OK either. I tried to save clothes – that was hopeless. Then I saw that it was mentally easier just to dump all of them.
At the beginning of January of 2014 we moved to a communal flat. Later on it turned out to be a real catastrophe too. Folks donated us clothes too, and part of them were so strongly perfumed that I started to show symptoms. My husband came along there, but moved away as early as in March. He didn't swallow my sickness or our son being sick, the attacks of migraine, and the other symptoms that stemmed from our lodgings. Me getting sensitized and the issue of perfumes were too much for him to swallow. He just went away, he just disappeared from our home. That was perhaps the hardest time.
But that was the beginning of my second hell; I started to show symptoms at work too. They conducted some indoor air surveys at the end of the year. "Nothing wrong" - though there were blobs on the ceiling with some kind of white fluff. I really did fight, I'm not a person sitting still. I was laid off at the employee co-operation negotiations as the ending of this fight.
In January we had to leave that flat too. The landlord took mould dogs to all the houses. Many others moved from there right away, when they understood the situation and found out the reason for some smell or symptom. The dogs found mould in every house.
I dared to take a new apartment after I let mould dogs visit it. At first we had mattresses, TV, and zillions of clothes laundered. But it didn't take more than a month or two when, there were those typical kind of breezes from somewhere every now and then.
They found prolonged water damage in our neighbour's bathroom. They were drying it. My daughter's wall got hot just like a sauna stove and I showed real strong symptoms. And then they checked our home. In the report, there were photos of the roof and it had really leaked and the insulating material was visibly covered with mould, just above my daughter's room, which I had experienced to be the worst of all.
Fact is we've ended up in the situation; my kids are living with my parents, because it's obvious the symptoms disappear there. Last night my daughter came to test what's it like to be at home, and she got sick and had a bellyache right away. My son, for his part, gets migraine and unwell. And at school when he tells the teachers he has symptoms, they don't care. They removed him to a sin bin outside the classroom when he told he was unwell.
1st December is the starting day for our lease contract for a brand new flat. It's a big risk because chemicals that may cause symptoms lurk there. New materials always release some odours. Not even mould dogs can point out them. We must however get somewhere.
We sold the detached house with all the reports on it. We had to sell it way below cost price. Nothing remained for us two.
ISOISOÄIDIN KORU                                                                 

Itse asiassa yks päivä just mietin sitä, et mitä on itelle jääny, nii ei mul oo ku nää korut. Toki mul on sieltä ekasta kämpästä monta muovilaatikollista tavaroita, kuten valokuvii, mut mä en vaan voi koskee niihin. Mulle tulee niin vakavii neurologisii oireit niistä, että mä luulen, et on parempi, etten enää edes koske niihin. Ne nyt odottaa siellä.
Mul roikkuu usein yksi sydän kaulassa. Sit mul on tää isoisoäidin koru. Tää on mulle semmonen, mikä merkitsee. En oo nähny mun isoisää, ku se kuoli MS-tautiin viiskymppisenä. Eloon jäi yks sen sisko enää, joka kuoli ihan muutama kuukausi sitten. Ja ku hänen luona käytiin, nii hän anto tän mulle. Tää on käsintehty ja vanha, sen äidillä ollu sillon. Se on isoisoäidin. Hän näytti kuvia perheestä ja kerto kaikkii tarinoita.
Oli ihana saada semmonen kosketus, kun kaikki muu on ympäriltä hävinny. Ne on ne ihmiset niin tärkeitä. Siinä jotenki konkretisoitu tääki, et mikä on materiaalin merkitys, ku hänki hoki, et eihän täältä mitään mukaan saa, et turhaan tässä tätä materiaakaan kerää. Mut on tää tosi ihanaa, et on jotain. Et on ainakin muistot, mitä on joutunu lapsillekin hokemaan. Niillehän tää on rankkaa. Tytär vieläkin itkee jotain pehmoleluja, mitkä oli tärkeitä, mut mä luulen et siin on kuitenkin taustalla enemmänkin se oma koti, mikä oli se tärkee.
Meil oli kuitenkin omakotitalo, iso piha ja koirilla oli tilaa enemmän, ku kerrostaloissa ja tämmösissä pienissä asunnoissa, ja koko ajan on menty kauemmaks ja kauemmaks lasten kavereista. Kyl lapset on tässä kasvanu, tai ainakin näkevät asioita ehkä enemmän ku normaalii elämää elävät ihmiset, et mikä on tärkeetä.
Siis meillähän alko tää homeen kanssa elämä, kun me ostettiin 2005 omakotitalo. Sitten joskus 2009–2010 aloin olla tosi kipee. Mulla ei ollu mitään astmaattisia oireita, ei hengitystietulehduksia, mut mulla oli kipuja siellä täällä ja niihin ei löytyny mitään selitystä. Vuoden ajan oli kolmoishermosärky koko ajan kasvoilla. Se oli ihan helvetillinen vuos. Syksyllä 2012 aistin ekan kerran omassa talossa tietyssä kohtaa hajun, mut pakkasilla se hävis ja sit keväällä se tuli uudelleen. Eteisestä löyty muovimatto, joka oli jätetty lautalattian alle. Se avattiin ja suojattiin muovilla. Ei siellä mitään näkyvää ollu, kaikki näytti kuivalta ja puhtaalta. Ja tässä on se meijän suurin moga varmaan, että ne purut otettiin pois ja laitettiin uudet eristeet. Se oli kuitenkin umpihomeessa ja se kaikki pääs meijän kämppään. Ei meillä mitään alipaineistustakaan ollu; ei me tiedetty tämmösistä asioista.
Ku palattiin remontin jälkeen kotiin, olin heti kipeenä. Aloin haistaa joka paikassa kotia homeen hajun ja kaikki vaatteet hais. Tapeltiin miehen kanssa siitä mitä pitäs tehdä, ku mies ei halunnu uskoo ollenkaan, että tämmöstä voi olla. Enhän mäkään siin vaihees osannu uskoo, et mun kaikki sairasjutut johtuu tosta homeesta. Sit otettiin vaan välttämättömät mukaan, suunnilleen hammasharjat ja muutama vaate ja lähettiin mun vanhemmille.
Marraskuun tienoilla rupesin tajuumaan, et ei se mun lapsuudenkotikaan ihan kunnossa oo. Yritin pelastaa vaatteita – se oli ihan toivoton touhu. Sit totesin, et on henkisesti helpompi, et vaan heitän ne kaikki pois.
Me muutettiin tammikuun alusta 2014 kaupungin vuokrakämppään. Se osoittautu myöhemmin kans ihan pommiks. Saatiin lahjotuksina vaatetta ja osa oli niin hajustettuja, et rupesin oireileen niille. Aviomies tuli vielä mukaan siihen, mutta muutti siitä jo maaliskuussa pois. Se ei uskonu mun sairasteluu, eikä pojankaan; et ne migreenit ja muut johtukin meijän kämpästä. Tää mun herkistyminen ja hajusteet oli sille ihan liikaa. Se vaan lähti menee, niinku kirjaimellisesti katos kotoo. Se oli ehkä rankinta aikaa.
Mut sithän mulla alko se toinen helvetti, eli rupesin oireilemaan myös töissä. Sisäilmatutkimuksia tehtiin loppuvuodesta. – "Ei oo mitään vikaa" – vaikka katoissa oli länttejä, mis oli jotain valkoista höttöö. Kyllä mä taistelin, en oo mikään joka istuu hiljaa. Mut irtisanottiin yt-neuvotteluissa tän taistelun päätökseks.
Tammikuussa jouduttiin lähteen siitä kämpästäkin. Vuokranantaja käytti homekoirat kaikissa taloissa. Sielt muutti useempi pois saman tien mun lisäks, ku ihmiset tajus ja saivat syyn jollekin hajulle tai oireelle. Koirat löyti hometta jokaisesta talosta.
Uskalsin ottaa uuden asunnon, kun käytin siellä homekoirat. Aluks meillä oli patjat, televisio ja hirvee määrä vaatteita, mitkä piti pestä. Mut ei siin varmaan menny ku kuukaus pari, nii välillä tuli semmosia tuulahduksia jostain. Naapurissa todettiin pitkäaikanen vesivahinko kylppärissä. Ne kuivatti sitä. Tyttären huoneen seinä kuumeni ku kiuas ja rupesin oireileen tosi voimakkaasti. Ja sithän ne tutki meijän kämpän. Raportissa oli kuvat yläpohjasta, jossa oli tosiaan katto vuotanu ja villat oli näkyvästi homeessa, just siin mun tyttären huoneen kohdalla, minkä mä oli kokenu, et on kaikista pahin.
Nyt tosiaan ollaan siinä tilanteessa et lapset on mun vanhemmilla, ku siellä selvästi oireet häviää. Tytär kävi viime yön kokeilemassa kotona ja heti tuli huono olo ja vatsa kipeeks. Pojalla taas tulee migreeni ja huono olo. Ja ku poika kertoo koulussa oireilevansa, nii opettajat ei välitä. Se on pistetty luokan ulkopuolelle jäähylle, kun se on kertonu, et sil on paha olo.
1.12. alkaa sopimus ihan uuteen asuntoon. Se on nyt suuri riski, koska siell on nää kemikaalit mille voin oireilla. Uusista materiaaleista tulee aina jonkin verran vocceja ja päästöjä. Niitä ei homekoiratkaan osaa ilmaista. On kuitenkin pakko päästä jonnekin.
Omakotitalo myytiin kaikkine raportteineen päivineen. Se meni ihan alihintaan. Ei meille jääny mitään kummallekaan.