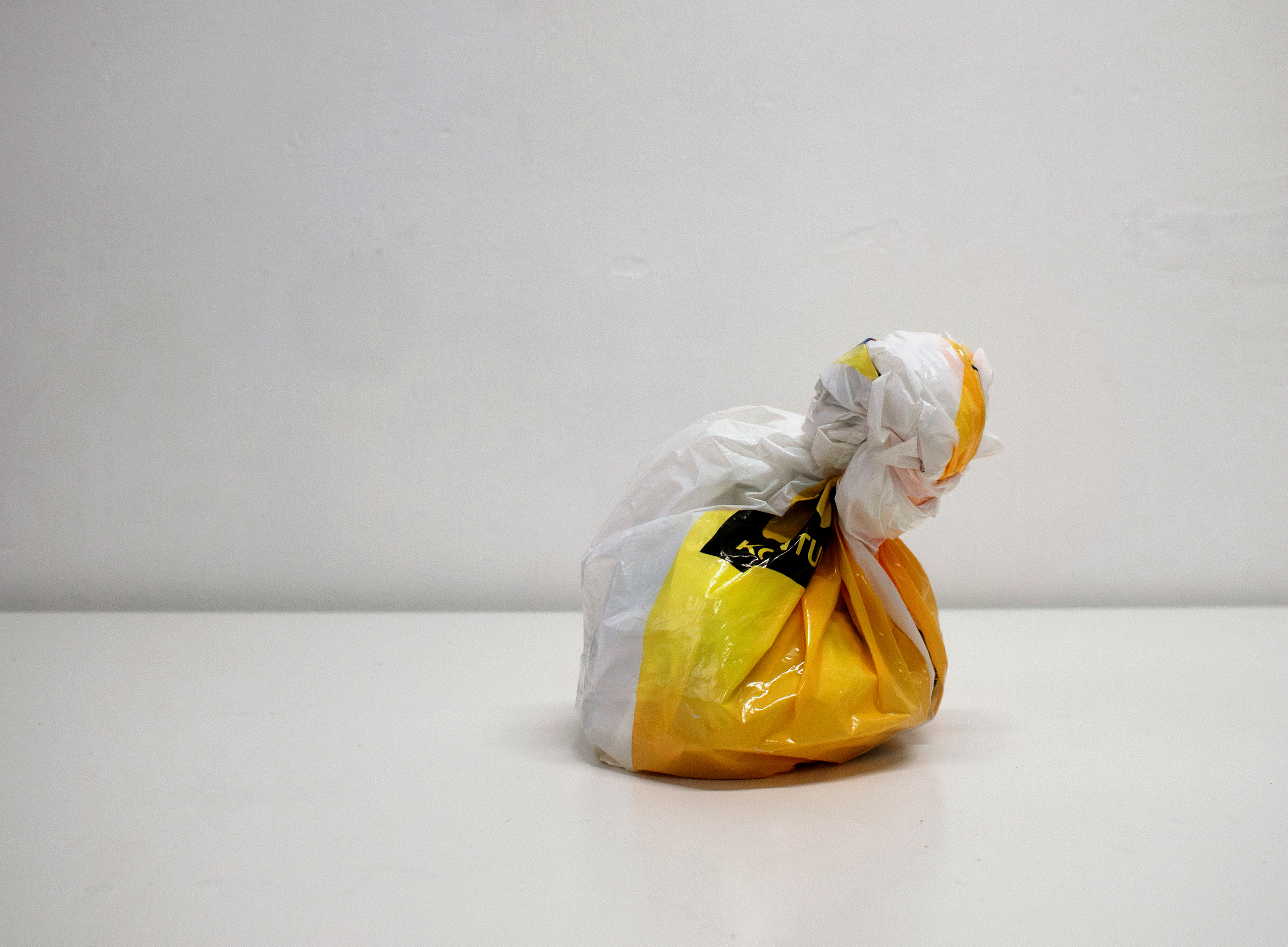 I COULDN'T DUMP EVERYTHING                                

My sister was visiting me, and we took all my stuff from my workroom. I asked my sister to photograph each item I dumped.
During all these years, since I got sick at school, I've been keepin' a plastic bag with some mini video cassettes I didn't have the heart to dump. There are cassettes with footage from a couple of years before I moved to Finland, it was intensive and hectic time, and I documented lots with my video and still camera. When I moved to Finland, I took all this material along, because I thought distance would give me some perspective and time to deal with this material, and I would start doin' something with it.
However, my sickness stymied all these plans.
These videos are related to situations and places - not necessarily any physical ones, but which I felt were hard to leave. I aren't talkin' about my native country as my home, I'm talkin' about the weak resistance movement I supported, and the people who stayed there.
INTERVIEW, 29th NOV. 2015                                                            
I moved to Finland to study. I was admitted to the school I wanted to start. I got a private workroom and many kinds of luxury things. I was in seventh heaven. I spent a lot of time in my workroom. Then I started telling my pal over Skype I had a kind of curious feeling in the workroom. I told him that even though I had a lotta new things to nourish my brain, I felt I was gettin' stupider and stupider, and I didn't learn anything. I wasn't able to concentrate. At some stage, I didn't manage to read written text and I didn't grasp what it said. Sometimes I had the feeling I was just sittin' in the lecture room and I couldn't understand what they were talkin' about. I did know they'd written in public about the mould issues at this very school, and it'd moved because of that, but it sounded a real faraway thing. I went to several doctors and pretty soon I could notice couldn't get any help, and they weren't interested to understand what was happening. They wanted me to take medicines to be able to attend school. One of the doctors said he did understand me, but he couldn't do anything.
I started to talk about my situation to other students too, and I understood that quite a few of them were ill. I talked to the staff of the school too. They told me they were going to send someone to check the air conditioning. A repairman came and said, 'The air conditioning is okay.' I said, 'The air conditioning might be OK, but I still don't feel fine, so, maybe, it's something wrong with it.' They answered there was no problem, but the reason couldn't be that. Then I met a printlab guy at school. He started talkin' about the mould problem and that he had a diagnosis and he'd got seriously ill and couldn't be in certain rooms at all. He was the only one to talk about the situation candidly.
I asked for a workroom in another building and carried all my stuff there. Of course I started feelin' unwell there too, because all the mould spores came there with the things. After that, I seldom went to the workroom.
My immune system collapsed at Xmas. I didn't go to school anymore and at some stage  I understood I couldn't meet people who'd been there. Sometimes when I was walkin' in town, my eyes became completely blinded for a while. It didn't take long, but it was real eery. I had the feeling I was in a sci-fi scary movie where some creature is takin' over your body. I was real edgy. Had the feeling something had changed.
I talked to my parents. I said I had the feeling I was goin' crazy. My dad, who's a psychologist, said he knew people with a real mental illness, my situation didn't look like that at all. That was real comforting. All the others said or gave the impression it was my fault. I left the school. I knew I needed a dry work room, a room with no mould nor toxins, a clean place.
First my family and I went to the Dead Sea. They helped me lots. They said, 'Okay, come here! We going to help you. We sure can sort this out.' We cleaned the cottage with vinegar, ethanol and washing soda. I stayed there a couple of months. Indeed, it was dry there, and there wasn't almost any stuff there, and I immediately felt much better. Was fasting, ate healthy, and started my day doin' yoga. Walked a lot, and used to go for a run when it wasn't the hottest time of the day. I used to lie in the sun wearing a pullover because I was freezing all the time though it was warm outdoors. I often went out to breathe Dead Sea air. Had lots of pain during the first week. Had the feeling all the toxins were pouring out of my body.
Right now it feels the illness has come to stay. In mouldy places, I always feel the need to go out. At first I tend to think, maybe, the feeling passes soon, but then at some stage I know it won't pass and if I stay there, my condition will get worse. I'm fed up with explainin' to folks this isn't allergy. The past two months have been harder. In my address, there is a smell of mould outdoors. I guess it's exactly the same breed that has sensitized me so much that I can't even be outdoors when it smells. I've heard a lotta Finns with mould sickness live in the Canaries and Thailand. They've gone there to stay a long time, because they've needed to get somewhere warm and dry till they get better.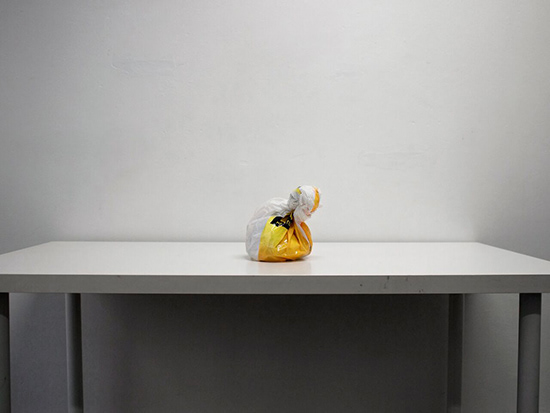 EN VOINUT HEITTÄÄ KAIKKEA POIS
Mun sisko oli käymässä, ja me otettiin kaikki tavarat työhuoneelta. Pyysin siskoa kuvaamaan jokaisen esineen jonka heitin.
Kaikki nämä vuodet – siitä lähtien kun sairastuin koulussa – mulla on ollut tallessa yksi muovipussi, johon suljin muutaman minivideokasetin joita en raaskinut heittää. Siellä on kuvauksia muutaman vuoden ajalta ennen kuin muutin Suomeen; se oli aika intensiivistä ja hektistä elämää, ja dokumentoin paljon video- ja still-kameralla. Kun muutin Suomeen, otin nämä materiaalit mukaan, koska ajattelin, että etäisyys antaisi minulle perspektiivin ja ajan käsitellä näitä materiaaleja, ja alkaisin tehdä niillä jotain.
Sairaus kuitenkin pysäytti kaikki suunnitelmat.
Nämä videot liittyvät tilanteeseen ja paikkaan [ei fyysiseen välttämättä], joka minun oli vaikea jättää. Ei syntymämaatani kotina, vaan se vastarinta [vaikka todella pieni], jonka jätin taakseni, ja ihmiset, jotka jäivät sinne.
Muutin Suomeen opiskelua varten. Pääsin haluamaani kouluun. Sain oman työhuoneenkin ja kaikkea luksusta. Olin ihan pilvissä. Vietin paljon aikaa työhuoneella. Sitten jossain vaiheessa aloin kertoa kaverilleni skypessä, et musta tuntu jotenki oudolta se olotila siellä työhuoneella. Kerroin, et vaikka on paljon uusia juttuja aivoille, niin musta tuntu, että tuun koko ajan vaan tyhmemmäks ja tyhmemmäks, enkä opi mitään. En pystynyt keskittymään. Jossain vaiheessa en pystyny lukemaan tekstiäkään, enkä ymmärtänyt mitä siinä luki. Välillä tuntu, että istuin luennolla, enkä ymmärtäny mistä puhuttiin. Tiesin kyllä, että julkisuudessa oli kirjoitettu koulun homejutuista, ja että koulu oli muuttanut sen takia, mut se kuulosti tosi kaukaiselta. Kävin lääkäreissä ja aika nopeesti ymmärsin, etten voi saada minkäänlaista hoitoa, ja ettei niitä [lääkärit] kiinnostanut ymmärtää mitä tapahtui. Ne halus, että otan lääkkeitä, että voin olla koulussa. Yksi lääkäri sanoi, että hän kyllä ymmärtää minua, mutta ei voi tehdä mitään.
Rupesin puhumaan muillekin tilanteestani, ja tajusin, että monet opiskelijat oli sairaita. Puhuin koulun henkilökunnallekin. Ne sano, et ne lähettää jonkun katsomaan ilmastointia. Sinne tulikin korjaaja, joka sanoi, että ilmastointi on ihan ok. Sanoin et "Ilmastointi on ehkä ok, mut mä en voi yhäkään hyvin, että siellä on ehkä jotain". Ne vastas, ettei oo mitään ongelmaa, että en voi voida huonosti sen takia. Sitten tapasin printlab-tyypin koululla. Se rupes puhumaan homeongelmasta ja siitä, et sillä on diagnoosi, että se oli sairastunut tosi pahasti, eikä pystynyt olemaan joissain tiloissa ollenkaan. Se oli ainoa, joka puhu kaikesta avoimesti.
Pyysin työhuoneen toisesta rakennuksesta ja vein kaikki tavarani sinne. Aloin voida tietenkin huonosti sielläkin, koska kaikki homeitiöt tuli tavaroiden mukana sinne. Sen jälkeen en käyny työhuoneella paljon ollenkaan.
Mun immuunijärjestelmä romahti jouluna. En mennyt enää kouluun ja jossain vaiheessa ymmärsin, etten voi tavata ihmisiäkään, jotka on ollu siellä. Joskus kaupungilla kävellessä kaikki meni hetkeks ihan mustaks. Se ei kestäny kauaa, mutta oli tosi pelottavaa. Välillä tuntu, että olin jotenkin kaukana kaikesta. Tuntu, ku oisin ollu jossain science fiction– kauhuelokuvassa, missä joku valtaa sun kehon. Hermot oli tosi pinnassa. Tuntui, että jotain on muuttunut.
Puhuin siitä vanhempieni kanssa. Sanoin, että musta tuntuu, että mä oon tulossa hulluksi. Mun isä, joka on psykologi, sanoi, että hän tietää ihmisiä, jotka on oikeesti mielisairaita, ja että mun tilanne ei vaikuta ollenkaan siltä. Se oli tosi lohduttavaa. Kaikki muut vaan sano, tai tuntu et ne sano, et vika on mussa. Lähdin pois koulusta. Tiesin, että tarvitsen kuivan tilan, tilan missä ei oo homeita, eikä toksiineja, puhtaan paikan.
Menin Kuolleelle merelle ensin mun perheen kanssa. Ne autto tosi paljon. Ne sano et "Okei, tuu tänne! Me autetaan. Kyllä me selvitään tästä". Me putsattiin mökki etikalla, etanolilla ja ruokasoodalla. Olin siellä yksin kolme-neljä kuukautta. Siellä oli tosiaan kuivaa, eikä siellä ollu oikeestaan mitään, mut heti tuntu paljon paremmalta. Paastosin, söin terveellisesti, aloitin päivän joogaamalla. Kävelin paljon ja juoksin, kun ei ollut kuuminta. Villapaita päällä lojuin auringossa. Kävin usein hengittämässä Kuolleen meren ilmaa. Ensimmäinen viikko oli täynnä kipuja. Tuntu, että kaikki myrkyt tuli ulos kehosta.
Tällä hetkellä tuntuu, että sairaus on tullut jäädäkseen. Hometiloissa alkaa aina jossain vaiheessa tuntua siltä, että nyt täytyy lähteä pois. Ensin miettii, että ehkä tää menee kohta ohi, mut sit jossain kohtaa tietää, et se ei mee ohi, että jos jään tähän, niin olo vain pahenee. En jaksa enää selittää ihmisille, ettei tää oo allergiaa. Kaks viimeistä kuukautta on ollu vaikeempia. Asuinpaikassani haisee ulkona home. Luulen, et se on just se sama home, mille mä oon herkistyny niin paljon, etten voi olla ees ulkona ku se haisee. Olen kuullu, et Kanariansaarilla ja Thaimaassa asuu paljon homeesta sairastuneita suomalaisia. Ne on lähteny sinne pitkäksi aikaa, koska on ollu pakko päästä johonki lämpimään ja kuivaan paikkaan siks aikaa, et keho parantuu.