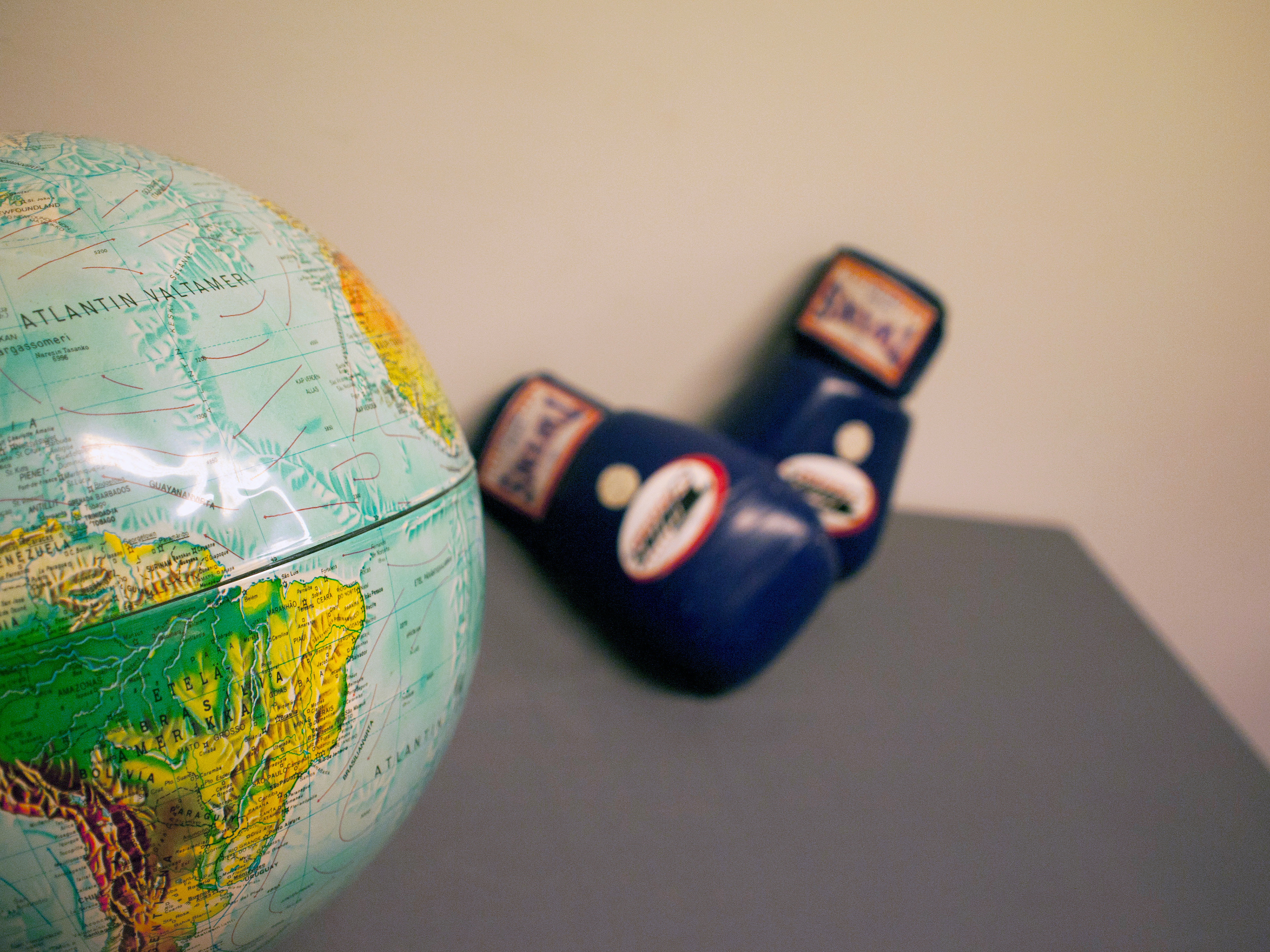 One of my pals went in for martial arts, just like me. I got these boxing gloves from him as a gift before he died. I didn't have the heart to throw them away. Even though I don't use them myself anymore, and, of course, I had to throw away all the other things in the garbage can, but I kept these. These have sentimental value. They're quite fun, because there are creases on them and they've been in tough use. He was a good friend. That's what life's always like, your friends pass away too young, well some of them anyway. He was 26 years old.
That mould issue isn't fun in any way. Actually, I asked my mom the other day: 'Did I get this globe in grade one or three? I can't remember it.' But she didn't remember that either, because she's got a brain tumour and her memory has started to weaken. This was important anyway. This ought to have a small moon globe on a separate stand, but it's disappeared somewhere over the years. I always kinda liked it.
I used to be a small entrepreneur and was doin' woodwork jobs. I had a heat gun which blew air at a temperature of over 500 degrees. I managed to disinfect part of the things contaminated by mould. Then, I stupidly tried to disinfect this one. I was groggy with mould. Well, you know mould sticks to plastic too. I screwed up with the surface and made some bumps on it. When you switch on the light, you can see some kind of a blue smutch on the equator. It disturbs me. Every time I switch on the light, I turn the globe so that I'm sadly forced to look at the Soviet Union all the time. You can see Finland and its neighbours there too. But earlier, I used to keep it so that Africa and Latin America were visible. I was in Brazil fixing my lungs and that's why I like to look at that country.
At the Soviet Union, it reads, 'The Russian Soviet Federative Socialist Republic', USSR. This is real important to me and extremely fine. I dig it just because of it. Even today they sell these globes as interior decoration. These red areas are fine and the bright green ones in Latin America over there. I haven't brought here other items, because I aren't going to drag any bureaus or my flat screen TV here.
In a way, the globe represents the fact you still have opportunities. I see light at the end of the tunnel.
INTERVIEW, 30th JAN. 2015
At our summer cottage, I noticed, I couldn't run even a metre any more. It was summer 2012. I was wonderin' whether I was sufferin' from overtraining. I was livin' in a detached council house built in 1954. My friends always said there was a smell of mould there, but I couldn't be worried about that, because I had no symptoms or at least didn't know I was havin' them.
The mould was like a knockout. At times I thought I'd gone haywire. One morning I woke up because the heating of the sauna was on, all the lights were on in the home and the TV-set was on. I didn't remember havin' switched them on. 'What's this all about?' I thought, 'Have I gone crazy for good?' I can remember me tryin' to switch on the computer, but didn't manage to do it.
I decided to go to the countryside to see my folks, and chill out a bit. But when I came back home, I couldn't go in. My nose started running, my eyes were smarting, I got awful fits of cough. I'd had bronchitis a few times and some other ailments. My pals said: 'You dude've been ill almost all the time.' I didn't think about it myself.
My roommate'd been sick too. He moved away and didn't understand until later that he wasn't sick anymore. My own health collapsed in other ways too. The landlord naturally started saying: 'There isn't any mould here.' He didn't let me have mould measurements. Luckily, I've got so good pals they helped me. First I moved to a couple of buddies who said: 'You can stay here as long as you please,' and in a while I got a room at another buddy's place. My situation was so bad I hardly had anything. I lost my working ability, I had to end all my own jobs and run down my firm.
Then the fight started. They defined my peak expiratory flow (= PEF). They had to cease the breath tests, because my lungs didn't have any capacity. The papers said I had asthma. They mention it's due to the air indoors; that isn't the direct reason, but it's mentioned there. I got real seedy. Had no home, whole stagnant. Then my buddy literally grabbed me into his arms. He came and said: 'Let's go.' He paid for my trip to Brazil. It was whole incomprehensible.
In Brazil, I got away from the stress situation. In a few weeks my condition got better. After the trip I didn't need to take three 800 mg pills of ibuprofen a day, for the symptoms and pains. I had the energy to start fighting for my own rights. My brain started to work. Backstage, I ordered a mould measurement and the abode was found uninhabitable.
The mould report and the medical report in hand I went to the landlord's to have a chat. I recorded our conversation secretly. He told everything on the tape, that's to say a lotta water leaks into the basement every spring, and he doesn't check his rented flats. He didn't believe or understand it was the real thing until after he got in police interrogation. I won the case. He paid me x amount of money. I had to buy all my things again from the very beginning; carpets, bedlinen, beds, everything. The compensation helped a bit.
They are now ratin' my working ability. My stress levels are high and I have hypertension too. I also take heart medicines and acid medication pills. Luckily I have no family, kids and the like, I've gone through this crisis all alone. Folks have had divorces and the like. If you say you've got toothache or bellyache, everyone will understand it, because they've experienced it. But when you're tellin' them about mould, they won't understand it. It's hard for them to relate to it and understand what the effects of mould are. At first my pals and semi-familiars said to me: 'What are you chatterin' about?'
Now that their houses are growin' mouldy, they call me.
I've got some new friends at the peer support group. You real get help from there. Maybe it's despair that rules there. Folks that come there have lost everything... their health and property. It's pretty sad to see what kind of burden they carry. They don't get help from anywhere. I've had good luck after all, because I can move, do sports, and I know I sure can accomplish something. But there are some folks whose health's got so bad it's impossible for them to get better ever.
I wish I got a summer cottage and got to Brazil. My dream is; I wouldn't ever need to put on long johns anymore. These are the three things I'm thinkin' about: Health, Feeling and Economy. I would like to get them in good shape, even one of them, because it might help forward the next one a bit. That could be the motto and mission for this year. "Who decides who can get along?" is a song by PMMP.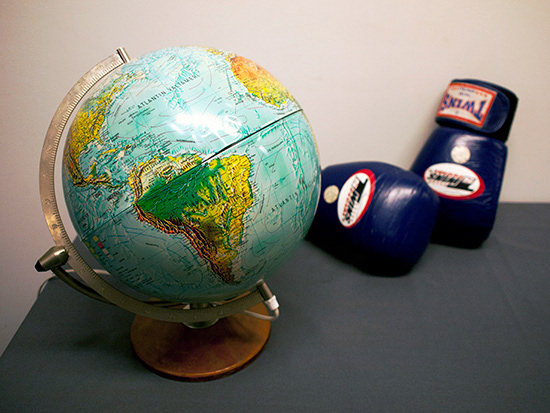 Mun kaveri harrasti kamppailulajeja, kuten minäkin. Sain nää nyrkkeilyhanskat siltä lahjaks ennen ku se kuoli. En raaskinu heittää näitä pois. Vaikken mä näitä enää ite käytäkään, ja totta kai jouduin kaikki muut tavarat heittää roskiin, ni nää mä jätin. Näissä on muistoarvoo. Ne on ihan hauskat, ku niis on kumminki ryppyy ja ne on ollu kovassa käytössä. Se oli hyvä ystävä. Niinhä se aina elämässä meneeki, et ystäviä lähtee liian nuorena, siis jotku. Se oli 26-vuotias.
Tos homehommassa ei oo mitään hauskaa. Kysyin itse asiassa just äidiltä, et sainks mä tän karttapallon ekal luokal vai kolmannel luokal, ku en muista, mut ei sekään muistanu, ku sil on aivokasvain ja niit muistihommii on menny. Tää oli tärkee kumminki. Tähän kuuluu pieni kuupallo omalla jalustalla, mut se on kadonnu johonkin vuosien saatossa. Mä jotenki aina tykkäsin siitä.
Olin aiemmin pienyrittäjä ja tein puutyöalan hommii. Mulla oli kuumailmapuhallin, mist tulee yli 500 astetta kuumaa. Sil mä pystyin osan hometavaroista desinfioimaan. Sitten mää hölmö yritin homepäissäin tätä desinfioida, ku tarttuuhan se home muoviinkin. Onnistuin vetää pinnan kuprulle. Ku laittaa valon päälle, nii päiväntasaajalla näkyy semmonen sininen. Mua ittee se häiritsee. Aina ku laitan valon päälle, käännän pallon niin, että jouvun valitettavasti kattoo koko ajan Neuvostoliittoo. Näkyy siinä Suomikin ja nää. Mut ennen pidin niin, et Afrikka ja latinalainen Amerikka näky. Olin Brasiliassa hoitamassa keuhkoja kuntoon ja tykkään siksi sitä katella. 
Täs lukee Neuvostoliiton kohdalla Venäjän sosialistinen federatiivinen neuvostotasavalta USSR. Tää on mulle tosi tärkee ja äärettömän hieno. Nykyäänki ne myy tämmösiä sisustuselementtinä. Mä diggaan tosta just sen takia. Nää punaset kohdat on hienoja ja kirkkaanvihreet tuolla latinalaises Amerikas. Muita tavaroita nyt ei oo mukana, koska en mä siis nyt mitään lipastoja rupee tänne raahaamaan, tai tauluteeveetä.
Maapallo kuvaa tavallaan sellasta et  vielä on mahollisuuksia. Tunnelin päässä on valoa.
Huomasin kesämökillä, etten jaksanu juosta enää metriäkään. Oli kesä 2012. Mietin, et onko tullu ylikuntoo. Asuin sillon -54 rakennetussa vuokraomakotitalossa. Frendit sano aina, et siellä haisi home, mutten osannu olla siitä kuitenkaan huolissani, koska en oireillu tai en tienny oireilevani.
Se home löi kerralla. Välillä luulin, että olen seonnu. Yhtenä aamuna heräsin siihen, että sauna oli päällä, kämpässä kaikki valot päällä ja telkkari oli auki.  En muistanu, että olisin laittanu niitä päälle. "Mitä ihmettä?", aattelin, "Onkohan tässä nyt tullu ihan pöhkös lopullisesti?". Muistan, että yritin laittaa tietokonetta päälle, mutten osannukaan.
Päätin lähtee maalle porukoille, huilailemaan. Mut ku tulin takas kotiin, nii en pystynykään menemään sisälle. Nenä rupes valuu, silmät kirveli, tuli kauheita yskänkohtauksia. Keuhkoputkentulehduksia ja muuta oli kyllä ollu. Kaveritkin sano, et "Äijä on niinku koko ajan ollu kipeenä". Ite en sitä miettiny.
Kämppiskin sairasteli ja älys vasta jälkeenpäin, ku oli muuttanu pois, ettei enää sairastellu. Yleiskunto romahti muutenki. Vuokraisäntä rupes tietysti et "Ei täällä mitään hometta oo", eikä antanu ottaa homemittausta. Onneks mul on niin hyvii frendei, et ne jeesas. Muutin ensin parin kaverin luo, jotka sano et "Oot tääl niin kauan ku haluut", ja vähän ajan päästä sain huoneen toisen frendin luota. Olin siinä tilanteessa, ettei mulla ollu oikein mitään. Työkyky meni, kaikki omat duunit piti lopettaa, firma pistää alas.
Sit alko taistelu. Ensin multa otettiin PEF-mittaus. Puhallustestit jouduttiin lopettamaan, koska keuhkoissa ei ollu kapasiteettia. Mul luki niis papereis, et mul on astma. Siel on maininta et sisäilmasta johtuen; se ei oo suoranainen syy, mut se mainitaan. Menin tosi huonoon kuntoon. Olin asunnoton, ihan lamaantunu. Silloin mun kaveri kirjaimellisesti kaappas mut kainaloonsa. Se tuli ja sano et "Nyt lähetään!" ja makso mun matkan Brasiliaan. Se oli ihan käsittämätöntä. Brasiliassa pääsin stressitilanteesta pois. Muutamassa viikossa mun vointi parani. Matkan jälkeen ei tarvinnu vetää kolmee x 800 g Buranaakaan päivittäin oireisiin ja särkyihin. Jaksoin ruveta taistelemaan oman oikeuteni puolesta. Järkikin rupes toimimaan. Otin salaa homemittauksen ja asunto todettiin asuinkelvottomaksi.
Homeraportti ja lääkärinlausunto kourassa menin vuokraisännän luo palaveeraamaan. Nauhotin meijän keskustelun salaa. Siinä se kertoo nauhalle kaiken. Et kellariin valuu joka kevät vettä vaikka kuinka paljon ja ettei hän tarkasta vuokra-asuntojaan. Vasta sit se rupes uskoo, ku se joutu poliisin kuulusteluun ja tajus, et täs onki tosi kyseessä. Mä voitin sen. Se makso mulle x-määrän rahaa. Kaiken joutu ostamaan ihan alusta – matot, petivaattet, sängyt, ihan kaikki. Korvauksesta oli osittain apua.
Nyt arvioidaan mun työkykyä. Stressitasot on korkeella koko ajan ja verenpainetautiki on. Mulla on myös sydänlääkkeitä ja mahansuojalääkkeitä. Hyvä, ettei oo perhettä, lapsia ja tämmöstä, et tää kriisi on käyty ite läpi. Ihmisille on tullu eroja ja kaikkee. Jos sä sanot, et sun hammasta tai mahaa särkee, nii jokainen ymmärtää sen, koska on kokenu sen. Mut ku selität homeesta, nii ne ei tajua sitä. Niitten on vaikee samaistua siihen, mitä se home tekee. Ensin kaverit ja puolitutut sano mulle, et "Mitä sä nyt horiset?". Nyt, ku niiden talot homehtuu, nii nyt soitetaanki mulle.
Oon saanu uusiakin frendei vertaistukiryhmästä. Sieltä saa tosiaan jeesiä. Epätoivo on ehkä se, mikä vallitsee siellä. Ihmiset tulee sinne kaiken menettäneenä… terveytensä ja omaisuutensa. Se on aika surullista, mitä taakkaa ne ihmiset kantaa. Ne ei saa apua mistään. Mullahan on käyny hyvä tzägä, ku kumminkin pystyn liikkumaan, urheilemaan ja tiedän, et jotain pystyn varmasti tekemäänki. Mut siellä on ihmisiä, joilta on menny terveys niin huonoks, ettei ne parane enää millään.
Kesämökin ku sais ja pääsis Brasiliaan. Unelma ois semmonen, ettei tarttes pitkii kalsareit laittaa jalkaan enää ikinä. Mää aattelen kolmee T:tä – elikkä Terveys, Tunne ja Talous. Ne pitäs saada kondikseen. Sais ees yhen, niin se saattais ruokkii taas toista vähän. Siin ois tälle vuodelle mottoo ja tekemistä. "Kuka päättää ketkä saa onnistua", laulaa PMMP.