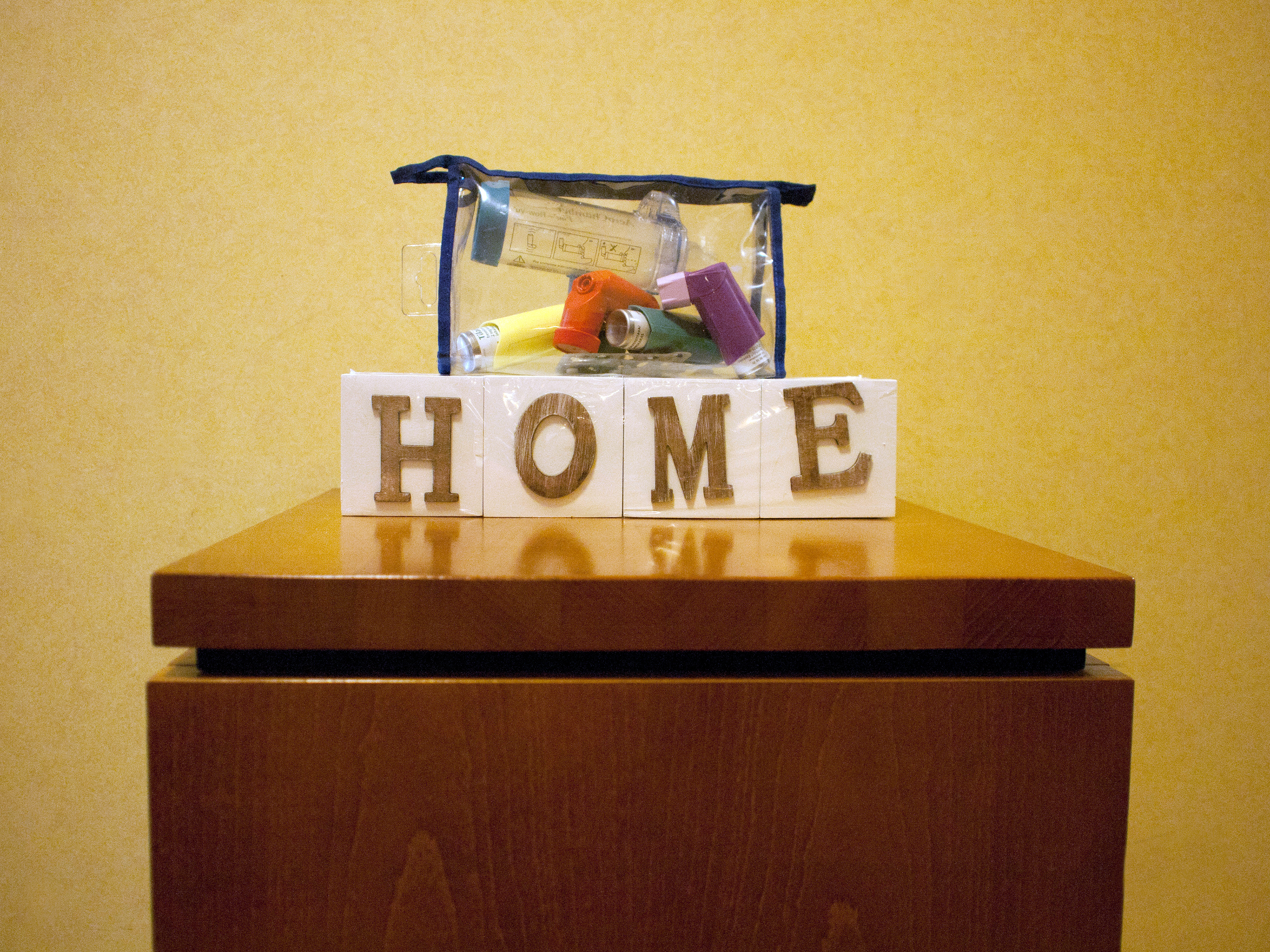 Last summer, 2015, I found these cubes with the English text HOME on them in Anttila department store.
I haven't got sensitized to mould at home, but mould is always along. I want to understand the text in the Finnish way; referrin' to mould instead of my home. I saw this in Anttila department store, and my first reaction was, 'There can't be anything better for me than this!' In the peer support group, I put this on the table to remind why we're here.
I haven't ever used this at home. My home is not the same as mould, but it's the cube that represents mould and its metabolites; actinomycetes. It flourishes in mouldy places. High moisture fosters it, and it's some kind of black goo. Some people say there's also black mould, a case by itself. It's called Strachybotrys chartarum atra. There's also a wide variety of breeds of mouldlike bacteria e.g streptomyces , streptomyces griseus ja streptomyces albus etc. If you google it, you'll get many more breeds.
I take a lotta different kinds of asthma medication - Ventoline, Seretide, Atrovent, and Singulair tablets. Cetirizin antihistamine tablets every day and Nasonex straight in the nose, and they are prescribed for the rest of my life. I always carry the medicines along. I haven't got the courage to go anywhere, even if I were fit as a fiddle.
I worked in health care industry as a substitute. In summer -99 I started harping to my co-workers, 'I think it smells very bad here!' And each time I passed a certain place I said, 'It smells of mould here.' And it made me cough hard. They dumped terribly many big rubber plants and weeping figs, but the smell of a an old cellar remained, but it was stronger now. I had a low-grade fever and my cough didn't quit. So I phoned a respiratory physician. He prescribed me a course of cortisone.
I went to work on Monday, and I was coughin' again. Our head nurse watched me, but didn't say a word. I made an appointment to see our occupational therapist. He listened to my lungs from the front and from behind and from the front again for some minutes. I was wonderin' why he didn't say a word. Then he came in front of me and said, 'You are seriously ill.  I'm sendin' you to the emergency clinic. You've got so strong abnormal breath sounds and it shows you've got severe asthma.' "I went to the respiratory clinic. And there was a senior physician who called all the candidates and told them, 'Baccalaureates, all of you, come here to listen! It's seldom you encounter this kind of lungs!'
Later I heard I
nearly
had
status asthmaticus. In other words, I would have drowned in my own phlegm. I was given cortisone intravenously, by means of intramuscular injections, and inhalation. I also got Atrovent as inhalation aerosol and pills. They used all possible channels to pump cortisone in me in the emergency department, and I ended up in a ward, or should I say got there.
I was on sick leave for three months. And when the turn of the year came, I said, 'Now I'm going to go to work.'  It was because they threatened to sack me there, because I was only a substitute and didn't have a permanent position.
When I had run out of cortisone, the same symptoms returned, and I was about to get choked. In the year 2000 I was on sick leave, and at work, and on sick leave, and at work. That made it clear I got better at home and ill at work. In 2001 I went to the occupational therapist again and he said, "Do you happen to know you're taking all available asthma medicines, and no new medicines can be prescribed to you, and it's now obvious you can't stay healthy at work!', and the respiratory physician agreed on that.
In 2002, I was allowed to go to a rehab check. They asked me what I wanted to do. I told them I wanted to start workin' or studyin'. I got to study. I was sick at school too, because there was mould there as well. Wearin' a gas mask I managed to stay there. I started to insist on gettin' to the Institute of Occupational Health to have occupational disease research, because I had so severe symptoms at work. I'd asked for research reports at all my work places and got to know there were many co-workers in the personnel who'd got sensitized to streptomyces albus, that's to say
the same mould as I. No-one told me it was bein' kept a secret all the time. After the disease research the nurse told me, 'This is plain as a pikestaff. It'll sure turn into an occupational disease!' I finished my school and graduated in December 2004, though my pension decision had already been made the previous summer.
Even though I'd managed to protect my breathing with a gas mask, I hadn't been able to safeguard my eyes. My eye doctor told me, 'Let's make a comparison; If the eye was an onion, let's compare the eye to it, all of its layers are inflamed.' I got a prescription of cortisone drops for three months. I'd had 26 long courses of cortisone. The longest of them went on for four months and the doses were strong. And then these drops caused cataract in my eyes. I was operated on for it in 2010. My cataract has come back now, and I'm waitin' for my turn to get to a new operation.
About three years ago, when my exposure to mould ended, my life started to ease off a bit. For 18 months I didn't go out at all, because I felt sick there and it made me cough. Being isolated was certainly awful, but luckily I had a net connection, and I read books and watched TV to spend time. Nowadays I don't feel sick outdoors. But I must go and take another seat if someone livin' in a mouldy house, comes too close to me on a bus, and the same goes for cigarette smoke and certain perfumes and young men's various AXE products. To tell the truth, they are all horrible and I cough even if I were perfectly okay and they make me get a fit.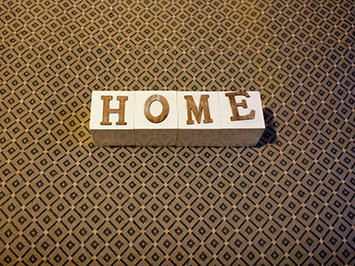 Löysin nää HOME- kuutiot Anttilasta viime kesänä.
Minähän en ole kotona herkistyny, mutta home kulkee aina mukana. Tää ei oo mikään home [houm], vaan tää on HOME [home]. Näin tämän Anttilassa, ja mää heti että "Ei voi olla kyllä mulle parempaa tämmöstä!". Siellä homesairaitten vertaistukiryhmässä paan tämän pöydälle, et muistetaan miks täällä ollaan.
En mää oo tätä ees kotona vielä käyttäny. Koti ei oo minulle HOME, vaan tämä [palikat] on niinko ihan oikeesti HOME ja sen aineenvaihduntatuotteet, elikkä se sädesieni eli aktinobakteeri. Se viihtyy paikoissa missä on hometta. Se tulee kosteudesta ja on jotain semmosta mustaa. Joku sanoo, että se musta home on vielä erikseen, se on se strachybotrys chartarum atra. Niitä homelajikkeita on streptomycestä , streptomyces griseus ja streptomyces albus, ja sitten oli vielä jotain muutaki. Jos sää googletat sen, niin sieltä tulee monta lajiketta.
Onhan mulla monenlaisia astmalääkkeitä; Ventoline, Seretide, Atrovent ja Singulair-tabletteja. Antihistamiini Cetirizin tabletteja on joka päivä ja Nasonexiä nenään, ja ne on koko loppuelämän. Mulla on mukana aina lääkkeet. En mää uskalla mihinkään mennä, vaikka oon kuinka hyvässä kunnossa.
Olin terveydenhoitoalalla ja tein sijaisuuksia. Kesällä -99 aloin sanoa työkavereille, että "Ko minusta täällä haisee niin pahalle!" ja aina ku mä menin sen yhen paikan ohi, nii mää "Tässä haisee ihan home", ja mua yskitti tosi paljon. Hirviä määrä isoja fiikuksia ja limoviikunoita hävitettiin, mutta siellä aina vaan haisi semmonen vanhan mummolan maakellari, mutta voimakkaampana. Mulla oli koko ajan pientä lämpöäkin ja yskä vaan jatku. Nii mää soitin keuhkolääkärille ja hän sano, että hänpä kirjottaa sulle kortisonikuurin.   
Menin maanantaina töihin, muistaakseni se oli maanantai, ja yskin taas. Meijän osastonhoitaja katto mua, mutta ei sanonu mitää. Tilasin ajan työterveyslääkärille ja hän otti mut vastaan, kuunteli mua edestä ja kuunteli mua takaa ja taas kuunteli edestä monta minuuttia ja mä, et "Miks tää ei niinko puhu mitään". Sit hän tuli mun eteen ja sano, että "Sä oot erittäin vakavasti sairas. Mä lähetän sut nyt tonne päivystyspoliklinikalle. Keuhkoista kuuluu niin kovat äänet, että sulla on astma tosi huonossa kunnossa". Menin keuhkopoliklinikalle ja siellä tuli seniorilääkäri, joka sano, että "Tulkaapa kaikki kandit nyt kuuntelemaan, tämmösiä kehkoja harvoin tapaa!".
Myöhemmin kuulin, että mulla oli lähellä statusastma-tilanne, elikkä olisin hukkunu omaan limaan. Sain kortisonia suoraan suoneen ja lihakseen ja hengitettynä, sekä Atroventiä hengitettynä ja tabletteina. Kaikkia reittejä myöten sitä kortisonia minnuun siellä päivystyksessä pumpattiin, ja jouduin osastolle, tai sanotaan, että pääsin.
Olin kolme kuukautta sairauslomalla, ja ku tuli vuodenvaihde, nii sanoin, et "Mää meen nyt töihin", ku uhattiin, että minut irtisanotaan sieltä, ku olin kuitenkin sijaisena, eikä ollu virkaa. Ku kortisoni loppu, nii tuli samanlaiset oireet taas ja olin aivan tukehtumispisteessä. Olin vuoden 2000 sairaslomalla ja töissä, ja sairaslomalla ja töissä. Siinä tuli ihan selväks se, että mää kotona paranen ja työssä sairastun. 2001 menin taas työterveyslääkärille, joka sano, että "Tiijäkkö, että sulla on käytössä kaikki myynnissä tällä hetkellä olevat astmalääkkeet, että ei voida enää antaa muita lääkkeitä, että tää nyt on ihan selvästi näytetty, että sää et pysy terveenä siellä!". Ja keuhkolääkäri oli samaa mieltä.
2002 pääsin kuntoutustutkimukseen, jossa kysyttiin, mitä haluaisin tehdä. Sanoin, että haluaisin mennä töihin tai opiskelemaan. Pääsin opiskelemaan. Olin koko sen ajan sairaana koulussakin, ko sielläki oli hometta. Kaasunaamarin avulla pystyin olemaan siellä. Aloin vaatia, että pääsisin Työterveyslaitokselle ammattitautitutkimuksiin, koska oireilin niin rajusti työpaikalla. Olin pyytäny kaikista työpaikoistani selvityksiä ja sain tietää, että vuosina 1995–98 työpaikkani henkilökunnassa oli paljon henkilöitä, jotka olivat herkistyneet streptomyces albukselle eli samalle mille mäkin. Sitä ei kukaan sanonu, sitä peiteltiin koko ajan. Tutkimusten jälkeen sairaanhoitaja sano et "Tää on ihan selevää pässin lihhaa. Ihan selvästi ammattitauti tulee tästä!" Kävin koulun loppuun ja valmistuin joulukuussa 2004, vaikka eläkepäätös tuli jo kesällä.
Vaikka hengityksen olin pystyny koulussa suojaamaan kaasunaamarilla, niin silmiä en ollu pystyny. Silmälääkäri sano, että "Jos silmä olis sipuli, verrataan siihen, nii siinä on kaikki kerrokset tulehtunu". Sain kolmeksi kuukaudeksi kortisonitippoja silmiin. Näistä kahdestakymmenestäkuudesta pitkästä kortisonikuurista, mistä pisin oli neljä kuukautta voimakkaita annoksia, ja sitten näistä tipoista tuli mulle kaihi silmiin. Se leikattiin 2010. Nyt mulle on tullu jälkikaihi ja oon jonossa leikkaukseen.
Suunnilleen kolme vuotta sitten, kun homealtistus loppu, alko pikkusen helpottamaan. Puoleentoista vuoteen en lähteny kotoa mihinkään, ku ulkona yökkäytti ja yskitti. Se eristyksissä oleminen oli tietenkin aivan hirveetä, mutta onneks on tuo netti, ja mää luin ja katoin televisiota, et sain ajan kulumaan. Nykyisin mua ei enää yökkäytä ulkona. Mutta jos bussissa esimerkiks joku hometalossa asuva tullee viereen, nii pitää vaihtaa paikkaa.  Ja tupakansavu, tai nuo muutamat hajuvedet, ja sitten tää nuorten miesten Axe, nii – ne on aivan hirveitä ja mää yskin, vaikka oisin kuinka hyvässä kunnossa ja saan niistä kohtauksen.