MY CHILDREN GIVE ME POWER
When my downhill had started, and we'd had to dump so much stuff, I got this feeling... At first it was real distressing, because all your stuff is somehow important to you anyway; they've got sentimental value or any kind of value whatever. So you'd already grown numb in a way, because you just had to dump it; you couldn't be sentimental to every item. But then there was the issue of Barbie dolls, because both of our daughters used to be keen Barbie players, and Baby born -players, and then a devilish idea just sprang to mind, 'Damn, it'd be easiest to throw these into the oven and oil after them and then a lit match like this..." But no way, I can't do that.
We washed all the doll clothes. And, in deed, we had a tub in the rear yard filled with zillions of kilos of Barbie shoes and horses and houses... you name it. And we washed and rinsed each shoe separately. And now the girls keep them in the box of keepsakes. They've wanted to keep them. They tell me they'll give them to their own future kids. It's  gone to victory even after all those troubles.
Can't understand this, we've lost almost all of our property, and we've still got a heck of a lotta stuff; me and my daughter had to root in the store up to our necks lookin' for those Barbie dolls. I thought it was so fun, because she said, 'Shall I dress her up in this dress now?' 'You sure aren't dressin' her in that one! That's a terrible tart dress!' Well, it was real important to her too what the Barbie looked like, the one she was going to take along. She told me too she'd played with the horses with her friend just a little while before. It should be noted she's 18 yrs.
It's kind of fun we managed to save quite a lot of other stuff from the turmoil too, however, but all of those things are very much the same. Anyway, it tells about what's been important in the project.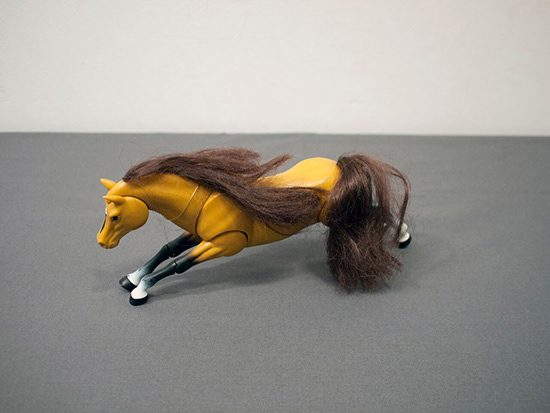 Jotenki ku oli lähteny sille tuhon tielle jo, ja sitä tavaraa jouduttiin niin paljon heittää, nii tuli semmonen… Ensin oli tosi ahdistavaa, koska kaikki tavarat on sulle kuitenki jotenki tärkeitä, on niis sit tunnearvoo tai mitä arvoo ikinä. Niin tavallaan siin turtu jo, koska sitä vaan piti heittää, niin ei tavallaan voinu tunteilla joka tavaran perään. Mutta sit jotenki noi barbit, ku meil oli ihan himo-barbileikkijöitä ja Baby Born -leikkijöitä nää tytöt, molemmat, ja sit vaan jotenki tuli semmonen piru, et ei helvetti, nää ois kaikkein helpointa heittää sinne pesään ja öljyy perään ja tulitikku näin… Mutta mä en pysty siihen, en pysty.
Kaikki nukenvaatteet pestiin. Ja meil oli tosissaan siellä takapihalla soikko, missä oli miljoonakiloo barbin kenkiä ja hevosia ja taloja ja vaikka mitä, ja jokainen kenkä yksitellen pestii ja huuhdeltii. Ja nyt ne on tytöillä siellä muistojen laatikossa. Ne on halunnu säilyttää ne. Ne sanoo, et sitten ku heille tulee joskus lapsii, nii ne antaa ne niille. Se on ollu semmonen, mikä on kulkenu niitten vaikeuksienki jälkeen voittoon.
Mä en tajuu, ku me ollaan koko omaisuudesta suunnilleen jouduttu eroon ja sitä tavaraa vaan on tälläkin hetkellä niin hirveesti, et suunnilleen tytön kanssa möyryttiin varastossa kaulaa myöten, ku etittiin noita barbeja. Jotenki se oli mun mielest niin hauskaa, ku hänki oli sillee, että "Laitanks mä nyt tän mekon?". "No et varmaan laita tota mekkoo! Hyi, tommonen kauhee hutsumekko!". Et se oli hänellekki tosi tärkee, minkä näkönen se barbi on, mikä viedään. Ja kerto vielä, et hepoilla ne oli kuulemma leikkinykki täs kaverinsa kanssa kuulemma ihan pieni hetki sitten. Huomattakoon, että hän on kahdeksantoista vee.
On se sillee jotenki aika hauska, et kylhän sieltä kuitenki paljon muutaki pelastu, mutta kaikki kuitenki tuli tolta alueelta. Kylhän se kertoo siitä, et mikä siinä projektissa on kuitenki ollu tärkeetä.