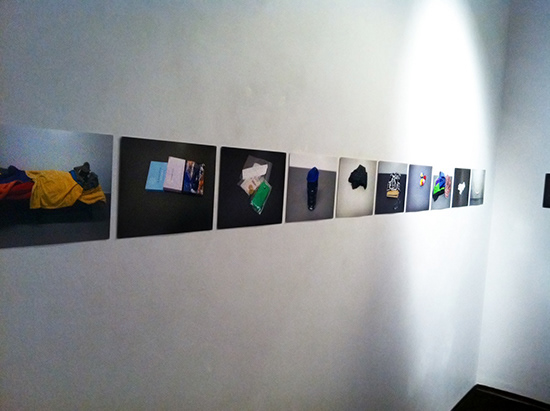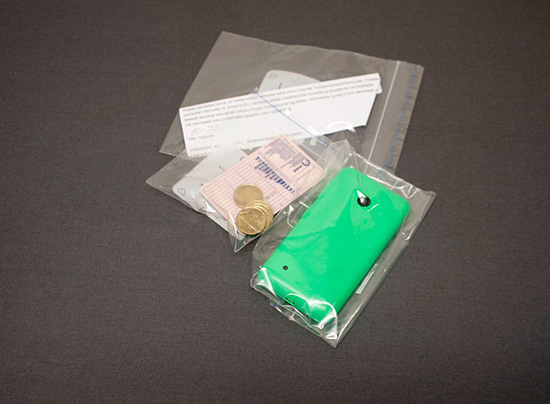 LUOTTOKAMAT, THE THINGS I TRUST
2015


Luottokamat (The Things I Trust)

installation at Studio Mustanapa, Rovaniemi
Photographs, texts, table, chair
In the exhibition, there are photos of individual items and things placed on the table.
'My sleeping bag, in which I slept a whole winter and which I still need if I sleep anywhere else but home. My clothes and my bag which I've mended a million times; I can't buy new ones so I always mend the old ones. My baby socks with which I protected myself from e.g. the plastic of bike bars, the plastic of floor of my floor brush etc.'
The objects in the photos are things to trust of a person grown ill due to mould. The items protected the person from the outside world. The person couldn't go outdoors for a year. The person got sensitized to almost all personal things and fell ill with multi-chemical sensitivity. The person couldn't tolerate anything from the outside world – not food store packages, new clothes, pieces of furniture, mattresses, the steering wheel nor the seat belt. The person had to part with almost everything and at first it was impossible to acquire anything to replace the things.
'I've been forced to make myself all the things I trust. I've had to think  what I can use, what I can touch – and how challenging that all is. They are important in the sense that they help me recover.'
Näyttelyssä on valokuvia pöydällä olevista yksittäisistä esineistä ja tavaroista. 
"Makuupussini, jossa nukuin talven parvekkeella ja jota edelleen tarvitsen, jos yövyn muualla kuin kotona.
Miljoonaan kertaan korjatut vaatteeni ja kassini; en voi ostaa uusia, joten korjailen vanhoja aina.
Vauvan sukkani, joilla suojasin itseäni esim. pyörän ottimien muovilta, lakaisuharjan muovilta ym."
Valokuvissa olevat tavarat ovat homeisiin sairastuneen henkilön luottotavaroita, joiden avulla hän suojasi itseään ulkomaailmalta. Vuoteen hän ei pystynyt poistumaan kotoaan. Hän herkistyi lähes kaikille omistamilleen tavaroille ja sairastui monikemikaaliyliherkkyyteen. Hän ei kestänyt mitään ulkopuolista - ei ruokakaupan pakkauksia, uusia vaatteita, huonekaluja, patjoja, auton rattia tai turvavyötä. Hänen oli luovuttava lähes kaikesta ja alkuun oli mahdotonta hankkia mitään tilalle. 
"Mun on pitäny luoda ite kaikki luottotavarat. On pitäny miettiä, et mitä pystyn käyttämään, mihin pystyn koskemaan – ja miten hankalaa se kaikki on! Ne on tärkeitä siinäkin mielessä, että pystyn niiden avulla toipumaan".