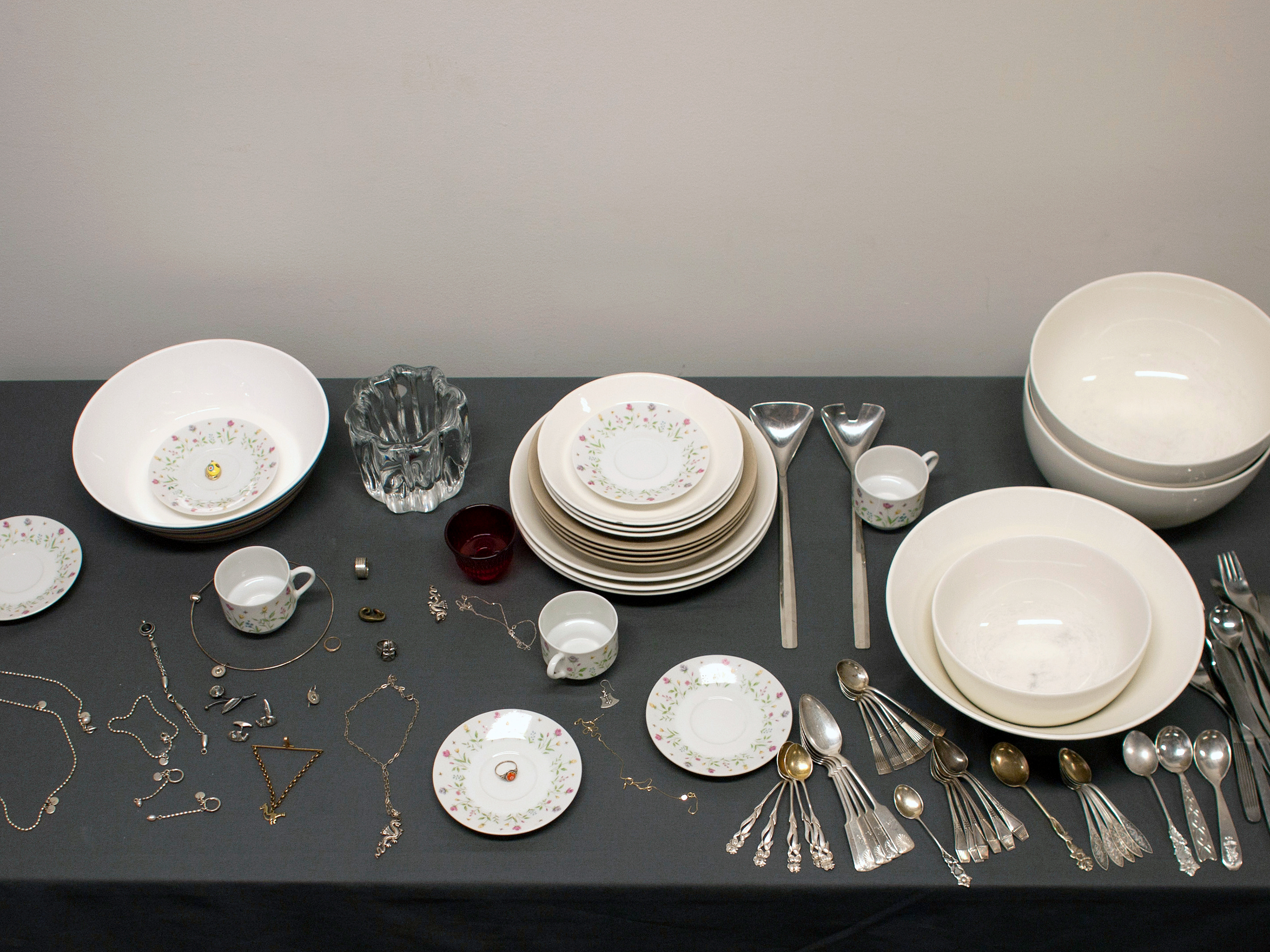 All the items are mostly glass, unpainted metal or glazed ceramics. In other words, something that repels the toxins of mould microbes and that we've had in our home provably without causing symptoms. At some stage, the situation developed to the point that we could've saved something else too, but there was so much stuff our health couldn't have withstood it if we'd started to test each item by trial and error. Most of the crockery is part of our wedding gifts: plates, bowls, and cutlery by Arabia.
Of course, it's comforting in such a way they're precisely some of the wedding gifts that have been spared. There's something that has been along from the very beginning. Some of them are jewels we got as gifts or bought; metal jewelry and christening spoons. Then we've got those rose cups of my granny's, some of which have broken over the years. And I'd always wanted to have that vase by Tapio Wirkkala, from my home. My mum gave it us as a wedding gift. I guess it's still our most valuable single item.
It's somehow terribly awesome to exhibit them like this, because it's terribly easy just to think – okay, we lost the piano, we lost this and that – but after all, some pretty beautiful things are left. Glass things are so beautiful. Why does glass last? Why are they like that, kind of eternal things? Like the Darth Vader -ring I got from our sons as a birthday present.
I think it's however comforting, in a way, to see there's maybe more of it than you think, after all. This idea sprang to mind, 'Actually, I haven't got any lovelier things – and, of course, I'd like to have more of them, but I wouldn't really like to show anything else about my life!' Aren't those just the kind of permanent things society can't change and nothing else either, except the hammer, of course?
It almost springs to mind this is some kind of grave find, because all the most valuable things are exhibited. Cleanliness, clean, safe – are the words that sprang to mind in terms of those grave finds. To be sure, this sounds a bit like an anecdote, but during the Winter War, my daddy's family put those things in a coffin and buried them in the potato cellar when the house was burnt, and the people were evacuated. I remembered it when we were gatherin' these things. Sometimes these things emerge in our daily lives in a passing way like in a footnote, 'I wonder if we've got a safe place to cache this'.
INTERVIEW, 21st NOV. 2015                                              
In a way, we could grasp it again that all the stuff we had left went in that single laundry basket, and that we're still payin' the mortgage for the mould home. On June 6, 2006 we signed the purchase contract for the end of a terrace. A few times we observed odour. The underpressure in the flat made the make-up air come indoors through the ground, and the bathroom was seriously water damaged. Those two things made us ill. In 2007, less than 18 months after we moved there, we left because actinomycete was found there. We were ill all the time. We experienced fatigue and respiratory symptoms, throat irritation, memory lapses, and awful pains in our joints (arthralgia). It made a terribly long list when we started to list them for the lawsuit.
Public service didn't comment on anything, we didn't get any help from them. We were punched in the face repeatedly. Our first advocate made us do all the written work. The next one had to do practically everything again; lawsuits and other things. Every evening and night we talked the matter over and wrote it down, and argued and wrote it down again. Luckily the new advocate carried out the work okay. It made it way easier for us to carry the burden. We won the case in court. Then they appealed to the court of appeals, and lost the suit there too. Of course, the compensation was way too small for the loss.
First we lived in hotels. Then we stayed at our friends' and parents', and we had to try to work all the time. Our daily life was quite burdened. And the homes were like bombs we couldn't stay in. We first found a single-room apartment, then a three-room flat, but they weren't okay. Then autumn came, and the symptoms started to get worse. We had VOC-measurements done in the apartment. The results revealed many kinds of things. We complained about it to the estate manager. He denied everything, and bad-mouthed us to the superintendent of the actual condominium claiming us to be hypochondriac. We moved to a two-room apartment, and later to a three-room flat one floor down, and there we lived. It was a wonderful flat! But we thought it we'd better move to another town. The second flat, the one we're livin' in right now, was suitable.
At the very beginning when we left, we took so much stuff as went in the car – utilities and clothes. We knew we couldn't take bed linen, nor soft pillows, and the like. We bought new blankets, and pillows etc. The rest remained in the flat, and we dumped other things as soon as we'd realized we couldn't use them. We knew we had to dump all the stuff remaining in our previous owner-occupied home, but it took its time to be able to take action. Perhaps it was summer 2008 when we emptied the home. We ordered a dolly to the front yard and we landfilled practically everything. I collected all my photos  and the like, things I thought I oughta photograph, at least, to have a remembrance. I packed, encapsulated all of them in plastic boxes and took them in a leased storeroom.
Sure, we couldn't help cryin' when throwin' the stuff away. In a way, it made it evident we had no way back anymore, to the life we'd had. Things were fundamentally different now. We had to dump quite a lot of our personal history too. The word that describes all of this is certainly "tragedy", because I think that's what it's all about anyway. I'm sure it's the insecurity that has influenced all of us. And when I think about what it did to our intimate relationship, I know quite a few things had to give way to it because we had to fight and concentrate. The indefferent attitude is hard to stand when you see the way people look at you and show they think that kind of things couldn't happen to them. But it can happen to anyone.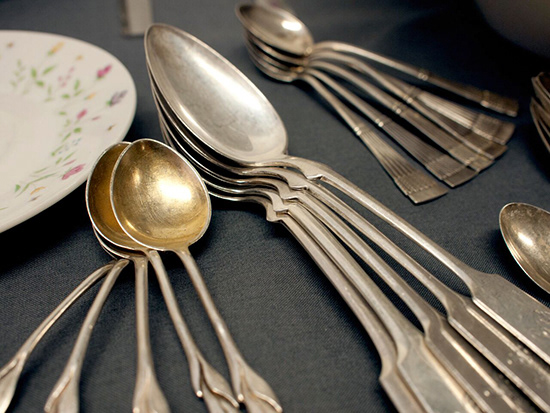 Siis kaikki esineet on käytännössä lasia, maalaamatonta metallia tai lasitettua keramiikkaa. Eli sellasta, mihin ei homemikrobien toksiinit pääse, ja jotka on voinu meillä olla todistettavasti ilman, että ne on aiheuttanu oireita. Jossain vaiheessa tilanne meni siihen, että ehkä jotain muutakin ois voinu säästää, mutta sitä tavaraa oli niin paljon, nii ei terveys kestä sitä, ett lähtee joka tavaraa kokeilemaan yrityksen ja erehdyksen kautta. Suurin osa astioista on meidän häälahjaks saamia Arabian lautasia, kulhoja ja ruokailuvälineitä.
Se on tietysti sillä tavalla lohdullista, et ne on just niitä häälahjaesineitä, mitä on säästyny. On jotain, mikä on melkein alusta asti kulkenu täs läpi. Ja koruja, mitä on saatu lahjaks tai hankittu, metallikoruja, ja sitten kummilusikoita. Sit on noi mun isoäidin ruusukupit, joita on matkan varrella hajonnukki. Ja sit mie olin aina halunnu ton Wirkkalan, Tapio Wirkkalan maljakon kotoa, niin äiti anto sen meille häälahjaks. Se on varmaan edelleen meidän arvokkain yksittäinen esine.
Jotenki kauheen ihanaa tuoda ne tälleen esille, koska hirveen helposti miettii vaan – okei piano meni, se ja tää ja toi meni  –  mut sit aika kaunista jää jälelle. Miks lasi kestää, noin kauniit, miks ne on tollasia, jotenki kuitenki ikuisia asioita? Niinku Darth Vader–sormus, minkä mä sain pojilta synttärilahjaks.
Mun mielestä se on tavallaan lohdullista kuitenkin, että onhan sitä tavallaan kuitenkin ehkä enemmän kuin sitä ajatteleekaan. Mulle tuli ihan semmonen lause mieleen et "Enpä mie nyt oikeestaan ton kauniimpaa – ja totta kai enemmän haluaisin, mut et, enpä mie nyt oikeestaan miun elämästä muuta haluais näyttääkään!". Eiks noi nyt oo just niitä pysyviä, mihin ei myöskään yhteiskunta, ei mikään pysty, paitsi tietysti vasara.
Tuo mieleen melkein ku ois joku hautalöydös, että tavallaan kaikki arvokkaimmat laitetaan. Puhtaus, puhtaat, turvalliset – ­­semmonen vielä tuli noista hautalöydöistä mieleen. Tää nyt on vähän tämmönen anekdootti, mut noi asiat mun isän perhe hautas perunakellariin arkussa talvisodan aikana, kun se talo poltettiin ja ne evakuoitiin. Se tuli nyt tän myötä mieleen, kun näitä kerättiin. Nää saattaa sivulauseissa tulla meijän normaalielämässä, vähän niinku sivulauseissa ohimennen, et "Mihinkähän tämänkin nyt laittas jemmaan tai turvaan".
Tavallaan taas tajus, että kaikki mahtu tohon yhteen pyykkikoriin, mitä sillon jäi, ja et me maksetaan vieläkin asuntolainaa siitä homekämpästä. 6.6.2006 tehtiin kauppakirjat rivitalon päätyasunnosta. Hajuhavaintoja tuli ja meni.  Asunnon alipaine johti siihen, et korvausilma tuli asuntoon maan läpi ja kylpyhuone oli pahasti vesivaurioinen. Ne kaks asiaa yhdessä aiheutti sen, että me sairastuttiin. 2007, vajaa puoltoista vuotta sinne muuttamisen jälkeen, me lähettiin pois, ku löyty sädesientä. Koko ajan oltiin kipeenä. Oli väsymysoireita, hengitystieoireita, yskänärsytystä, muistihäiriöitä ja hirveitä nivelkipuja. Kyl siitä pelottavan pitkä lista tuli, ku ruvettiin listaamaan niitä oikeudenkäyntiä varten.
Julkisella puolella ne ei ottanu kantaa mihinkään, sieltä ei kyl apua saanu. Se oli jatkuvaa semmost, et "matto lähti alta". Ensimmäinen asianajaja teetti meillä kaikki kirjotustyöt. Seuraava joutu tekee uusiks käytännössä kaikki kanteet ja muut. Illat ja yöt me keskusteltiin ja kirjotettiin, ja riideltiin ja kirjotettiin. Onneksi asianajaja hoiti työnsä. Se kevensi meidän taakkaa ihan älyttömästi. Käräjäoikeudessa me voitettiin. Sittenhän ne valitti hoviin ja ne hävis senkin. Ei korvaukset tietenkään riittäny kattamaan lähellekään menetyksiä.
Meil oli ekaks niitä hotellipaikkoja. Sitten oltiin ystävien ja vanhempien luona, ja koko ajan piti yrittää käydä töissä. Aika kuormittunu se meijän arki oli. Ja semmosia pommeja oli ne asunnot, ettei niihin pystytty jäämään.  Ensin löyty yksiö ja sitten kolmio, mut ei ne kunnossa ollu. Sit tuli syksy ja oireet rupes pahenemaan. Me teetettiin asuntoon VOC– mittaukset. Niistä löytykin kaikenlaista. Me valitettiin siitä isännöitsijälle, joka kiisti kaiken ja haukku meijät varsinaisen taloyhtiön isännöitsijälle luulotautisiksi. Muutettiin siitä kaksioon ja myöhemmin kerrosta alempaan kolmioon, ja siellä me asuttiin. Se oli ihana asunto! Mut me todettiin, että on ehkä parempi siirtää elämä muualle [toiseen kaupunkiin]. Ja jo toinen asunto, mitä katottiin oli sopiva – se missä asutaan nytkin.
Ihan ensin ku me lähettiin, niin otettiin mukaan sen verran, ku autoon mahtu – käyttötavaraa ja vaatteita. Tiedettiin, ettei vuodevaatteita voi ottaa, eikä pehmeitä tyynyjä ja tällasia. Käytiin ostaa uudet peitot, tyynyt ja... loput tavarat jäi sinne asuntoon. Ja tavaraa heitettiin sitä mukaa pois, ku tajuttiin, ettei niitä voi käyttää. Tiedettiin, että joudutaan heittää omistusasunnosta kaikki pois, mutta otti oman aikansa, että siihen pystyttiin ryhtymään. Se tais olla kesä 2008, kun tyhjennettiin se kämppä. Tilattiin siirtolava etupihalle ja käytännössä kaikki vietiin kaatopaikalle. Keräsin kaikki valokuvat ja tällaset, mitkä aattelin, et pitää saada vaikka valokuvattua, jos ei muuta ­– et jää joku muisto. Ne kaikki mää pakkasin, kapseloin muovilaatikoihin ja vein vuokravarastoon.
Kyllähän siinä itku pääsi, kun niitä tavaroita heitti pois. Tavallaan siinä konkretisoitu se, ettei paluuta siihen mitä oli ollu, enää ollut. Et nyt asiat on perustavalla tavalla toisella lailla. Omaa henkilöhistoriaakin joutu heittämään aika paljon pois. Yks sana joka kuvaa tätä kaikkea, on varmaan onnettomuus, koska siitä mun mielestä on kysymys kuitenkin. Kyllähän se turvattomuus on varmasti kaikkiin vaikuttanu. Ja kun miettii parisuhteenkin kannalta, niin aika moni asia jäi sen alle, kun piti taistella ja keskittyä. Sitä välinpitämättömyyttä on vaikee kestää, ku sen näkee ihmisten katseesta, et noin ei kyllä mulle vois tapahtua. Ja kun se voi tapahtua ihan kelle vaan.