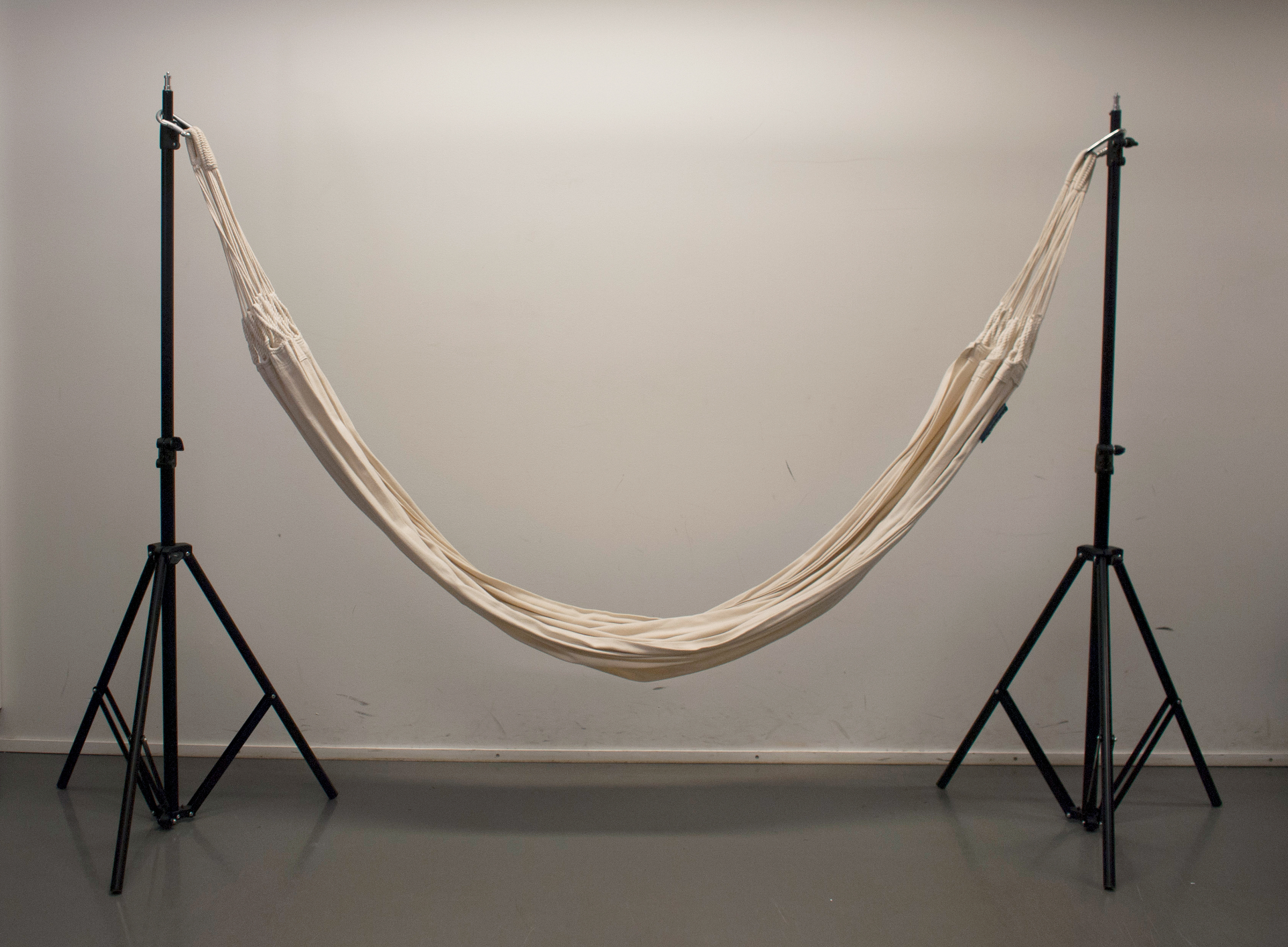 I bought a hammock because our bed was old, totally original, full of breast milk, children's wee, dust mites and sweat down the years. I'd bought it to the cottage because I wanted to make sure I wouldn't be exposed to those allergens at night. I thought there wouldn't be any of them there because it had no mould and it was made of organic cotton. I slept in it in the sitting room for three months. Now it's a wonderful sofa. Even if my kids played intensively there, they like to stay put with me. It's nice to ask our stressed guests to sit down there and swing.
I've had to create all the things I trust myself. I've had to think what I can use, what I can touch – and how difficult all of that is.
I put my children's old socks on the grips of the handlebar of my bike, a broom on the door handle etc. They're important in terms of bein' able to get well too. You can't easy swap them for other things. At the worst phase, the hardest part was to improvise how to read books. I tried to make use of for example big freezer bags ...not to mention other things. My grandad's a bit like Gyro Gearloose, a mastermind. He's conceived implements for himself to be able to read and be in operation at home. I hoped he'd have helped me too. But he didn't even understand my problem.
In the first place, when I'd got ill and lost everything, I read "Stillness Speaks", and "A New Earth" by Eckhart Tolle. They gave me the strength to think: 'Only now, havin' lost everything, I do know I haven't lost anything!'. As long as I had something to fight for, I used to stick to the last lifelines, and I thought, 'Now it's a must to go look for something and we we're going to do this, that, and the other.'
But then I thought, 'Well then, now I don't have to do anything anymore because there's nothing to be done. I've done everything a human can do, and real well, and I've made almost no mistakes, but even so I've lost everything. Still, there's nothing to worry about even though you don't know whether you're alive tomorrow. There's nothing to worry about.' It's easy to think you will meet your aquaintances again just the way you shall and kinda frank, you will tell them what the situation is like today. And even though this life situation's horrible why should I think it's awful. How about thinkin' this is life?
I got a dream job just after I had graduated and I did know the building was in bad shape. Everyone had to eat painkillers and allergy medicines all the time, me too. I was always powerless after work. Childlessness and miscarriages were common among my colleagues. When I got pregnant they told us about a big water damage. A couple of months before my maternity leave, my symptoms started to get more common. First I had headaches and all sorts of minor ails – I didn't see the connection with mould in any way. Then the symptoms got worse. I started to itch, my skin was slimy at work, the itch was awful. I got nettle rash on my arm. At occupational health care
, they told me, 'You mustn't go there anymore at all!' and they moved me to another workplace.
I gave birth to Helmi, and the summer went by quite OK, or downright wonderfully. We took outdoor exercise nine hours a day. I had some fits of malaise, nothing else. And then came autumn and naturally, we stayed indoors more. I started to wonder why all the places I went to were mouldy. I said in a shop, 'Oi, do you know I think you have some mould here, there's a terrible mouldy stench here!' And I started to get ill, real ill in different ways. I got a frog in my throat and my throat swelled up. I was in a panic, what was this all about. And I started to run from doctor to doctor. I was amazed by our home too, because the smell of the plastic mat got stronger and stronger. I ordered a test of the indoor air. At Xmas we went to my daddy's home, and the frog in my throat disappeared. When we went back home a radiator had leaked and some bluish white slime had flowed out. My husband commented on the situation, 'You were right, we have mould here. We can't live here.'
Then we packed and sealed all our belongings. We started to look for a flat and moved to my daddy's place for a short stint. We had to move back, however. My husband built a room for me in the sauna to let me live in a place with no plastic mats. I couldn't live there either. Next I moved to the balcony, and that was the first good thing, because when I woke up in the morning I could feel, 'Now life feels quite OK.'
I had started to get more sensitive and I could smell more accurately. It started to stink at home too, and I had to go through all our things. I carried all the items I thought I'd  throw away to the yard of the condominium, the furniture included. Tons of my own wonderful stuff. People rushed there. I said, 'Take as much of those as you please, the rest goes to the garbage dump!' And they took lots: my perfumes, African musical instruments, decorations, and clothes. I threw away all my diaries and a full box of memories. All the things smelled of chemicals, not mould. I was worried about my own mental health, 'Can this be real?' If there was an electric wire near me, my throat swelled. If I put my hand on plastic, I got nettle rash there right away.
From January to May I slept on the balcony, until I couldn't be there either, and all the time we were looking for a house, especially me. For some hectic weeks I tested flats sleeping there. We kept on looking for one and then came the special spring when I wasn't able to stay at home any more. I tried to sleep in a tent at beaches, but that didn't work either. We moved to the yard of my granny's summer cottage in the middle of the forest. I said, 'Let's go see one more house at the weekend, so I'll stop looking for one.' So we went there and I said, 'This is the first place that might be suitable for real.' I was impressed by especially the air outdoors and the purity. I realized I managed to sleep outdoors even though it didn't work indoors. I got more and more sensitive to the outside world. Every time when my husband came home bringin' something from the shop, everything started to stink. He had to take a shower, change his home clothes and take all the things out of the bags.
We lived there a year and spent all our savings. I took outdoor exercise and ate healthy food. I concentrated on taking it easy and I read those books of mine. All the year I kept thinkin', 'I'm here to get well.' Every once in a while I was struck by despair, especially towards the end of the year. I thought, 'I aren't getting better here, because I'm all screwed, because we're running out of money and we're going to have to go.'
The landlord put the house on sale. I tried my best to be able to continue living there. We couldn't afford to buy it, and wouldn't have got mortgage either. We had to start lookin' for new home. The third abode made me think, 'I think I can live here.' And we took that one. My husband said, 'How can this happen at once like this?' I said, 'This is OK'. I tested it, I stayed the night there. I got a little nettle rash there, but I didn't mention about it to anyone. We didn't have many options. But when we went there, I noticed I couldn't live there. I tried, but I got real ill, and understood I couldn't go outdoors either, because there was a smell there. Every time I opened the window, the smell of kerosene came from a hangar nearby. I got awful absence seizures. 'Well, now I'm real screwed, because I can't go outdoors and I can't stay here indoors either.' The symptoms got worse in the kitchen. If I leaned against the wall, I got nettle rash on my back and my throat swelled.
I went back to our old home and stayed there for the rest of the lease. I drove around Finland and took a look at 23 houses. I always had all of this stuff in the trunk. For some hectic weeks I stayed overnight in different lodgings to test them. Then I got this feeling: 'I am too tired! I've done quite a lot. You can't say I give up easy. Maybe it's easier if three of us survive; if just my husband and kids keep the flat.' Then we thought about what to do. I said, 'For real, now it might be the right moment to agree I'll only take care of myself. I don't want to have the whole family destroyed.' But my husband thought we should remain as a family whatever we'll do. And I stayed there, and we lost the old home, and I was just crying all the time and was real sad. I understood: I didn't want anything else so much, I just wanted to live there.
However, I was cured little by little and I thought, 'As it's real hard to stay here at home, how about having a job then? Because I wouldn't need to stay here all the time. I informed my employer I was going to return to work. I got a fixed-term job. I was pretty fine there because I was workin' at my own pace. I managed to get desensitized there, but every now and then I got ill and sent a message to the occupational physician. Then I got a message, 'Well, let's have a meeting.' It was a meeting meant to frustrate me. They said, 'Too many messages like this one telling you feel unwell. And the air cleaner costs so much. You can't work here anymore.' I said, 'It's not true! I can stay here and I do my work fine. I'm never absent on account of this illness. If I've sent that many messages about bad things, then you must remember I haven't sent any of them for quite a few days. I can do it and I want to work here!' And they let me stay there.
But they said, 'Now you can't have that migraine, or mould related symptoms!' If something was hard to do, I avoided that unnoticed, and made no big issue of that. In emergecy situations, I had to do those things... and what a sickness after that. It real pissed me off.
But, as mentioned, we bought the small cottage and got the mortgage! We derogated from the normal and renovated the cottage habitable. And even though it was a tumbledown hut, I got a doctor's certificate which stated it'd be important to feel free to live there as it stands, and it passed muster. We bought it in the spring and moved in right away. At work I was doin' full time, because I didn't have the courage to ask for reduced hours and you know I was collectin' money for the cottage.  I took reduced hours at work, what with having the house, the way to the workplace being long, having settled my position there, and me not being suspected I'd be absent the next day. I have a job now and the rest of my time I run in the woods. I sometimes walk there for five hours with a map and a magnetic compass. I pick berries, mushrooms and swim every day. We live a simple life. And it's real wonderful there.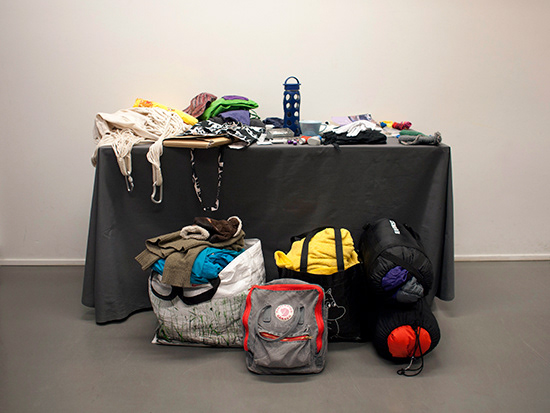 Hankin riippumaton sen takia, et meijän sänky oli vanha, ihan alkuperäinen ja täynnä rintamaitoa, lasten pissoja, pölypunkkeja ja hikeä vuosien varrelta. Olin hankkinut sen sinne mökkiin siksikin, että en ihan varmasti altistuis yöllä.  Mietin, ettei siinä voi olla mitään, koska se oli homeeton ja luomupuuvillaa. Nukuin siinä olkkarissa kolme kuukautta. Nyt se on ihana sohva. Vaikka lapset muuten riehuis, nii hetken aikaa ne kököttää siellä mielellään mun kanssa. Sinne on ihana laittaa stressaantuneita kaupunkilaisvieraitakin kiikkumaan.
Mun on pitäny luoda ite kaikki luottotavarat. On pitäny miettiä, et mitä pystyn käyttämään, mihin pystyn koskemaan – ja miten hankalaa se kaikki on! Laitan lasten vanhoja sukkia pyörän ottimiin, lakaisuharjan kahvaan jne. Ne on tärkeitä siinäkin mielessä, että pystyn niiden avulla toipumaan. Noita ei voi helposti korvata toisilla tavaroilla. Kaikkein vaikeinta oli pahimmassa vaiheessa miettiä sitä, miten pystyisin lukemaan kirjoja. Yritin kehitellä isoja minigrip-pusseja ja vaikka mitä. Mun ukkikin on vähän ku Pelle Peloton – nero. Se on kehitelly apuvälineitä, minkä avulla se pystyy lukemaan ja toimimaan kotona. Toivoin, että jos se ois auttanu minuakin. Mut ei se ees tajunnu mun ongelmaa. 
Sillon alun perin ku sairastuin ja ku olin menettäny kaiken, sain Ekhard Tollen Läsnäolon voimasta ja Uudesta maasta vahvuutta ajatella, et "Nyt vasta ku oon menettäny kaiken, nii nyt oikeesti tiedän, että en oo menettäny mitään!" Niin kauan ku oli jotain mistä taistella, nii oli semmonen, että  takertu niihin viimesiin oljenkorsiin, et "Nyt on pakko niinku mennä ettiin, ja nyt tehään näin ja näin".
Mut sit oli et "Okei, nyt täs ei oo pakko tehä enää mitään, koska mitään ei oo tehtävissä. Oon tehny kaiken, mitä ihminen voi ja oikeesti tosi hyvin, enkä oo tehny suurin piirtein yhtään virhettä, mut silti on kaikki menny.  Silti ei oo mitään hätää, vaikka ei tiedä et onko ees elossa huomenna. Ei oo mitään hätää". On helppo ajatella, että kohtaa ne ihmiset niin ku kohtaa, uudestaan ja tavallaan avoimesti, ja kertoo et mikä tilanne nyt on. Ja vaikka tää elämäntilanne on ihan kauhee, niin miks aattelis, et se on kauhee, mitä jos aattelis, et tää on elämää.
Sain unelmatyön heti valmistumisen jälkeen ja tiesin kyllä, että se rakennus oli huonokuntoinen. Kaikki joutu syömään koko ajan päänsärky- ja allergialääkkeitä, niin mäkin, ja veto oli aina poissa töiden jälkeen. Työkavereilla oli paljon lapsettomuutta ja keskenmenoja. Kun tulin raskaaksi, meille kerrottiin isosta vesivahingosta. Kuukaus-pari ennen äitiyslomaa oireita alko tulla enemmän. Aluks oli päänsärkyä ja kaikkee pientä – en yhdistänyt sitä millään lailla homeeseen. Sitten oireet paheni. Rupes kutittamaan, oli ihan limanen iho töissä, syyhys kauheesti ja nokkosihottumaa nousi käsivarrelle. Ne [työterveyshuollossa] sano että "Et saa mennä sinne enää ollenkaan!" ja ne siirs mut toiseen paikkaan.
Sain lapsen ja kesä meni aika kivasti, tai ihanasti. Yheksäntuntisia päiviä me ulkoiltiin. Mulla oli vähän jotain huonovointisuuskohtauksia, mutta ei muuta. Sit tuli syksy ja oltiin tietty enemmän sisällä. Rupesin ihmettelemään, et miks kaikki paikat mis mä käyn on homeessa. Jossain kaupassakin "Hei tiijättekö, että teillä taitaa olla täällä hometta, hirvee homeen haju!". Ja rupesin tulee kipeeks, tosi tosi kipeeks eri tavoilla. Mulle tuli pala kurkkuun ja kurkku turpos. Olin ihan paniikissa, että mitä tää oikein on ja ravasin lääkäreillä. Ihmettelin kotiakin, ku siellä hais muovimatto aina vaan voimakkaammin. Järjestin sisäilmamittauksen. Jouluna mentiin mun isän luo ja pala laski mun kurkusta. Ku mentiin kotiin, oli patteri vuotanu ja ulos oli valunu sinivalkosta visvaa. Mies oli sillee et "Sä olit oikeessa, täällä on hometta. Me ei voida asuu täällä". Sitten pakattiin ja sinetöitiin kaikki. Etittiin asuntoa ja muutettiin hetkeks mun isälle. Jouduttiin kuitenkin palaamaan takaisin. Mies rakens mulle huoneen saunaan, ettei mun tarttis asua siellä, missä on muovimattoja. En pystyny olemaan sielläkään. Sen jälkeen muutin parvekkeelle ja se oli eka hyvä juttu, koska ku siel heräs aamulla, nii totes et "Tää on ihan normaali olo".
Olin alkanu kuitenkin herkistyä enemmän ja haistoin tarkemmin. Kotonaki alko haista ja jouduin käymään kaikki tavarat läpi. Kannoin kaikki pois heitettävät taloyhtiön pihalle huonekaluja myöten. Kaikki hais – ei homeelta, vaan kemikaaleilta. Tietenkin sitä epäili oman mielenterveytensä puolesta, et "Voiko tämmöstä olla!". Jos joku johto oli lähellä, nii kurkku turpos, tai jos laitoin käden muovin päälle, niin siihen tuli heti nokkosihottuma.
Tammikuusta toukokuuhun nukuin parvekkeella, kunnes en pystynyt olemaan sielläkään, ja koko aika me etittiin taloa, lähinnä minä. Viikkotolkulla koeyövyin asuntoja kovalla tahdilla. Etittiin ja etittiin ja sitten tuli se kevät, ku en voinu olla enää kotona. Yritin nukkua rannoilla teltassa, mut eihän siitäkään tullu mitään. Muutettiin ukin mökille pihalle, keskelle metsää. Sanoin "Käydään kattoo viel viikonloppuna toi yks talo, nii sit mää en enää eti". Me mentiin ja mä olin heti "Tää on ensimmäinen sellanen paikka, mikä oikeesti vois olla sopiva". Varsinki se ilma siel ulkona ja se puhtaus teki vaikutuksen. Tajusin, et pystyn nukkumaan ulkona, jos en sisällä pystykään. Herkistyin vielä enemmän ulkomaailmalle. Aina ku mies tuli kotiin ja toi jotain kaupasta, niin kaikki hais. Sen piti käydä suihkussa, vaihtaa kotivaatteet ja laittaa kaikki tavarat pusseista pois.
Asuttiin siellä vuos ja käytettiin kaikki säästöt loppuun. Ulkoilin ja söin terveellisesti, keskityin rauhoittumiseen ja luin noit mun kirjoja. Koko vuoden aattelin "Mä oon täällä parantumassa!". Aina jossain vaiheessa iski epätoivokin, varsinki loppuu kohden, et "Enhän mä tääll oo parantumassa, ku mä oon ihan pulassa, ku meil loppuu rahat ja me joudutaan lähtee". Omistaja pisti talon myyntiin. Yritin tehdä kaikkeni, et oltais saatu jatkaa siellä. Ei meil ei ollu rahaa ostaa sitä, eikä me oltas saatu lainaakaan. Meijän oli pakko alkaa ettii asuntoo. Kolmas asunto oli silleen et " Kyl mä varmaan voin tääl olla". Ja me otettiin se. Mies siihen et "Miten tää voi nyt yhtäkkii käydäkki?". Mä "Tää käy, ihan ookoosti". Koeyövyin sen. Sain vähän nokkosihottumaa, mutten kertonu sitä kellekkään. Ei vaan ollu kauheesti vaihtoehtoja. Mut ku me mentiin sinne, nii huomasin "No, enhän mä voikaan täällä olla". Yritin, mut tulin tosi tosi kipeeks ja tajusin etten voi mennä uloskaan, koska siellä haisee. Aina ku ikkunan avas, tuli sieltä kerosiinin haju, koska lentokenttä oli lähellä. Sain kauheita poissaolokohtauksia. "No nytten ollaanki sit pulassa, koska en voi mennä ulos, enkä voi olla täällä sisälläkään". Keittiössä oireet paheni. Jos nojasin seinään, niin selkä meni heti nokkosihottumalle ja kurkku turpos.
Yritin skarpata välillä ja pistää tavaroita nätisti ku mies oli töissä, et se ilahtuis, et oon tehny muka jotain. Lähin takaisin vanhaan kotiin ja olin siellä jäljellä olevan vuokra-ajan. Kiertelin ympäri Suomee ja kävin kattoo kahes viikos 23 taloa. Mulla oli aina nää kaikki kamat takakontissa. Viikkotolkulla koeyövyin asuntoja kovalla tahdilla. Sit mulle tuli et "Mä en jaksa enää! Oon aika paljon tehny. Ei voi sanoo, et luovutan vähällä. Ehkä se on helpompi, et ainakin kolme perheestä selviää, jos mies ja lapset vaan pitää ton asunnon". Sit mietittiin, et mitä tehdään. Sanoin "Ihan oikeesti, nyt voi olla hyvä hetki sopia, et mä huolehdin vaan itestäni ettei me jouduta ihan tuhoon koko perhe". Mut mies oli sitä mieltä, että ollaan nyt kuitenkin perheenä tässä mitä ikinä tehdään. Ja mä jäin sinne ja me menetettiin se vanha koti, ja mä vaan itkin koko ajan ja olin ihan tosi surullinen. Tajusin, etten mitään muuta haluis niin paljon, ku et saisin asuu siellä.
Tulin pikku hiljaa kuitenkin vähän parempaan kuntoon ja aattelin "Koska täällä kotona on tosi huono olla, niin mitä jos menisin töihin sitten, koska sit mun ei tarttes olla täällä koko aika". Ilmotin et palaan töihin. Me pidettiin kokous, mis mietittiin, missä pystyisin parhaiten olemaan. Tuli ilmoitus "Et pysty oleen missään töissä, ei me keksitty mitään!". Sit yllättäen tulikin soitto, jossa pyydettiin määräaikaiseen työhön. Pärjäsin siinä suht hyvin, ku tein omaan tahtiin. Siellä pystyin siedättymään, mutta aina välillä tulin kipeeks ja laitoin viestiä työterveyslääkärille. Sit ilmoitettiin "No niin, nyt pidetään kokous". Se oli semmonen lyttäyskokous, jossa ne sano, et "Näin monta tällasta viestii, et sä voit huonosti", ja että " Se ilmanpuhdistinkin maksaa niin paljon. Et sä voi olla täällä enää". Se oli se idea. Sanoin, että "Ei pidä paikkaansa! Mä pystyn oleen täällä. Mä hoidan työni hyvin. En oo ikinä pois tän sairauden takii. Jos mult on tullu noin monta viestii, et asiat on huonosti, niin aika monta päivää on, ettei oo tullu viestii. Mä pystyn ja haluun olla täällä töissä!" Sain jatkaa siellä. Mutta ne sano "Nyt sulla ei saa olla sitä migreeniä, etkä saa enää oireilla homeesta!" Jos joku oli sen jälkeen vaikeeta tehdä, nii mä vaivihkaa vältin sitä, enkä tehny siitä kauheesti numeroo. Hätätapauksessa jouduin asioita tekemäänkin ja olin sen jälkeen tosi kipeä, ja mua harmitti se.
Mut me siis ostettiin se mökki ja saatiin se laina! Aivan poikkeusjärjestelyillä mökki muutettiin asuinkelpoiseksi. Ja vaikka se mökki on ihan hatara, nii mä sain lääkärintodistuksen siitä, että ois tärkeetä saada asua siinä sellasenaan ja se meni läpi. Me ostettiin se keväällä ja muutettiin heti. Tein pitkään täyttä työaikaa, koska en uskaltanu kysyä vajaata ja keräsin rahaa taloon. Ja sit ku se talo oli, ja ku sieltä on pitkä matka töihin, ja ku olin vakiinnuttanu asemani töissä, eikä mua koko aika epäilty siitä, että jään huomenna pois, nii sit otin vajaan työajan. Käyn nyt töissä ja kaiken muun ajan juoksen metsässä. Saatan kävellä siellä viis tuntia kartan ja kompassin kanssa. Kerään marjoja ja sieniä, ja uin joka päivä. Eletään tosi yksinkertaista elämää. Ja siel on tosi tosi ihanaa.
(Tekstissä esiintyvien henkilöiden ja paikkojen nimet on muutettu).